The Demise of Sears Canada: How Credit Cards Played a Role
Posted October 17, 2017
- updated November 7, 2017
in News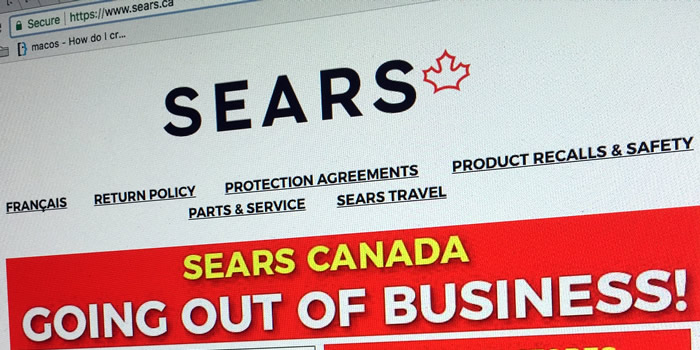 Sears Canada is no more. It's the end of another iconic retailer in Canada. The Canadian retail landscape is tough, as Target found out.
Sears Canada followed a similar death spiral as another Canadian retailer: Eaton's. For the 65 year old franchise, the writing was on the wall for Sears Canada for a long time. Unfortunately, for its remaining 12,000 loyal employees, it means they're without a job before the holiday season.
Let's take a look at what led to the demise of Sears Canada and how credit cards played a role.
Management Fails to Reinvest in Sears Canada
Children like to play the blame game and blame their parents for their current situation. In the situation of Sears Canada, the blame is well deserved. The failure of 131 store chain can largely be blamed on its parent company. It's a sad ending for a truly iconic retailer.
Sears Canada was being run by Edward Lampert, a financial whiz who founded his own Hedge Fund, ESL Investments Inc. Lampert saw Sears Canada as a cash chow, reaping all the benefits, but failing to reinvest in the business. While competitors like Canadian Tires and Loblaws renovated their stores to stay relevant, Sears Canada invested the bare minimum and it showed. Customer count was down significantly.
Sears Canada also failed to stay relevant and compete. Walmart has been clobbering them as a discount retailer, while online retailers like Amazon were offering better prices, a larger selection and delivery to your doorstep. All these poor decisions by management ultimately led to its sales and profitability plummeting, and pretty much sealed its fate.
Sears Sells Off Lucrative Credit Card Portfolio
Another death nail for Sears Canada was when it sold off its lucrative credit card line in 2015. Sears had little choice when JPMorgan Chase & Co. refused to renew its 10-year agreement.
This led to Scotiabank acquiring the Sears Canada MasterCard from Chase Canada. Although many saw it as Scotiabank aggressively growing its credit card business, it was also the failure of Sears Canada to compete that led to the sell-off. Loyal Sears cardholders had their credit cards converted from Sears Mastercard to Scotiabank credit cards.
Losing the revenues from Chase was another big blow to Sears Canada, one which they weren't able to recover from. Sears Canada failed to find a partner for its credit card, which shows the lack of faith Bay Street had in its revolving door of management.
Extended Warranties in Limbo
Sears Canada was known for its appliances. It has some of the most trusted household names in Canada. But that trust has been broken with its extended warranties up in the air. Many Canadians purchased extended warranties on appliances, such as fridges, stoves and dish washers.
Right now it's unclear whether the extended warranty will be honoured. This is leaving customers frustrated and only rubs salt in the wound. It's also a good reminder of the importantance of choosing a credit card with a good extended warranty. Sears Canada won't be the last retailer to go under. At least you'll be protected in situations like this since many credit cards offer extended warranties.
The Bottom Line
It's truly a sad ending for Sears Canada. Nobody wanted to see it end this way. If we can learn anything from Sears Canada's demise is that the Canadian retail landscape isn't a cakewalk. Retailers have to be willing to reinvest and compete, otherwise they'll ultimately face an untimely death similar to Sears.