Breaking Up is Hard To Do: Shoppers Drug Mart and RBC Part Ways on Co-Branded MasterCard
Posted July 5, 2016
in News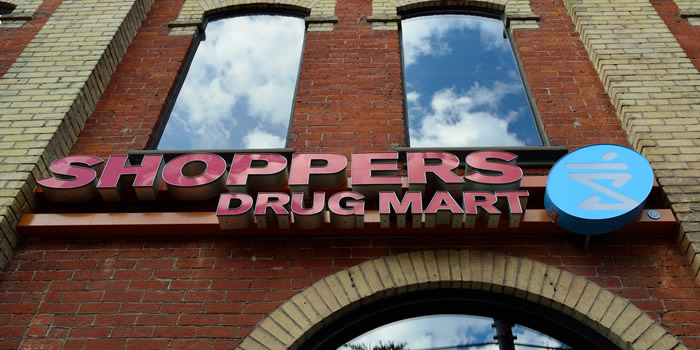 Another credit card relationship has gone sour. This one involves some pretty major players – Canada's largest drugstore chain and biggest bank.
Shoppers Drug Mart and RBC are parting ways on their co-branded Shoppers Optimum MasterCard and debit card. As of right now both cards are no longer available. If you're one of the 200,000 existing cardholders, you'll be making the switch over to "other RBC banking products" in the fall.
As a Shoppers Optimum MasterCard cardholder, you could earn extra points in the popular Optimum rewards program on purchases made at Shoppers and other banners owned and operated by Shoppers like Murale and Pharmaprix. Optimum points could then be redeemed toward free products.
Shoppers and RBC are being tightlipped about the reason for the breakup, although both say there's no hard feelings and the breakup is mutual. Shoppers citing the relationship is ending due to "business reasons."
The Good, the Bad and the Ugly of Co-Branded Credit Cards
Canadians love their reward points, so it shouldn't come as any surprise co-branded credit cards are generally really popular with consumers. You're rewarded handsomely for shopping at your favourite retailers and often just for signing up. In fact, the sign-up bonuses tend to be much better with these cards than standard bank cards. For example, the Alaska Airlines, TD Aeroplan, and Amex Starwood credit cards all offer 20,000+ miles just for signing up.
The cost of customer acquisition is high in many businesses. Companies spend millions of dollars in advertising and marketing each year in an effort to gain new customers. The brands aren't in the business of giving away huge sign up bonuses for nothing. They're doing it for a specific business reason. They're more willing to give a better bonus up front for the potential of acquiring a long term customer.
While co-branded credit cards have their upside, they're not without their risks. As we've seen with Costco, Walmart and now Shoppers, sometimes issues arise that can potentially hurt consumers who use these cards. Just talk to any Aeroplan Visa cardholder involved in the transition from CIBC to TD Bank. The transition for 550,000 CIBC cardholders was anything but seamless. Cardholder complaints ranged from lost credit cards in the mail to missing statements.
Another downside for co-branded credit cards is that they often come with reward redemption restrictions. If you don't shop at a retailer often, you may be better off signing up with a cashback credit card.
Why Do Co-Branded Credit Card Relationships End?
To understand why co-branded credit cards sometimes don't work out, it helps to think of them like a marriage. When the deal is first signed, both brands may feel like they're getting a good deal, but once the dust settles a year or two in, one brand may feel like it's getting shortchanged. Since there are "plenty of fish in the sea," this can lead to the premature break up of a once-promising partnerships.
Many saw the writing on the wall for the co-branded Shoppers Optimum MasterCard and debit card when the merger of Canada's largest grocery retailer, Loblaw, and the country's biggest pharmacy chain, Shoppers Drug Mart, was announced in the summer of 2013. It no longer made sense for Shoppers to partner with RBC when Loblaw offers no-fee banking services in direct competition through PC Financial. If there's a silver lining for Shoppers customers, it's that the Optimum rewards program remains intact – for now.
The Bottom Line
Co-branded credit cards are a great way to earn reward points at your favourite retailers, as long as you're willing to accept that sometimes these partnerships come to an end leaving cardholders in limbo. If you frequently shop at a retailer, then by all means sign up for its credit card and start earning extra rewards today, just don't be surprised if that partnership ends one day.