Protecting Your Credit Card When Using Presto
Posted February 11, 2019
in Credit Card Tips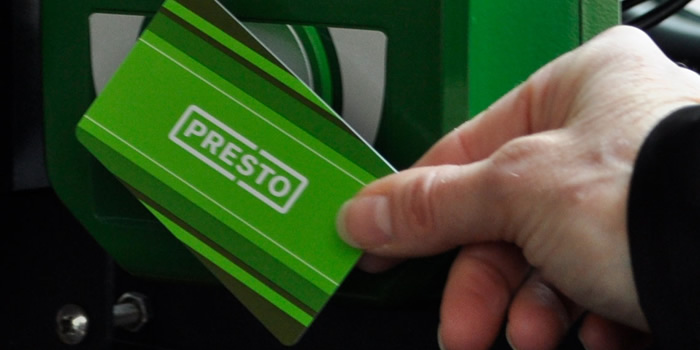 Today transit systems across the world are modernizing their systems. One of the ways they're doing this is with fare collection. Using Toronto as an example, transit riders used to only have the option of paying by cash. A few years ago that changed when the TTC started accepting credit cards.
The TTC has been looking to further modernize its fare collection with Presto, a contactless smart card fare payment system. The TTC is planning to do away with tickets and tokens altogether and only accept the Presto card going forward. This is good news for those who don't like carrying around cash, tickets and tokens, but Presto isn't without its flaws.
Auto Reload May Come at a Cost
Presto makes it as convenient as possible to load transit fare on your card. To that extend, it lets you set up an auto reload feature. You can set the payment threshold minimum you'd like your Presto card to get to (a minimum of $10) before it loads a preset amount on your card (a minimum of $20). It's super convenient. No more lining up to buy tickets or tokens from fare collectors.
This seems great on paper. With a care like the the Tangerine Money-Back Credit Card, you could choose public transit as one of your spending categories to earn 3% in rewards. Not bad!
The only bad part is if you lose your Presto card. Since your Presto card doesn't have a PIN like a credit card for added security, someone can ride the public transit system at your expense if they find your lost card.
It's even worse when your Presto card is linked up to your credit card since funds will be automatically loaded onto the Presto card. That's why it's important to report your Presto card lost or stolen right away when it happens, but sadly that's not the end of the story.
With a credit card when it's lost or stolen, you're probably not on the hook for fraudulent purchases made, provided you can prove that it isn't you. Plus you have your credit card PIN to protect you. Not so with the Presto card.
With the Presto card, when you report your card lost or stolen, there is a 24 hour period after the card is reported missing that you're on the hook for. News outlets like CBC News are reporting stories from transit riders who lost their transit passes and had to watch as their Presto card were being used at their expense and there was nothing they could do about it.
That's because Presto has a policy where you're responsible for charges on your Presto card 24 hours after it's reported lost or stolen. Worse of all, you can't even transfer money between registered Presto cards. Although Presto is considering revising this policy with the string of customer complaints, this is the policy as it currently stands.
The Bottom Line
Until Presto revises its policy, you can protect yourself by putting the bare minimum for the auto reload feature. That way if your Presto card is lost or stolen, the amount of money you'll be liable for will be limited.