Visa Infinite Review – Visa's Premium Loyalty Program
Posted November 10, 2017
- updated February 23, 2019
in Reviews

Credit card issuers are constantly innovating their reward programs to attract loyal consumers. The goal is to offer exceptional service to please the most discerning customers in hopes they will continue to spend big bucks through the brand. After all, Visa and MasterCard make money on every swipe (or chip) transaction, so it pays to keep consumers spending on their cards.
In Canada, Visa's top loyalty program is called Visa Infinite. In this post we'll review Visa Infinite and introduce the cards participating in the program.
Premium and Super Premium Options
Visa's top Canadian loyalty program has two variations: Visa Infinite, and Visa Infinite Privilege.
Before we get into the benefits, let's take a look at the income requirements for each: The Visa Infinite cards require a personal annual income of at least $60,000 or $100,000 per household. Infinite Privilege cards require a minimum annual income (personal or household) of $200,000. Clearly the Visa Infinite program is much more accessible for the average credit cardholder.
High-end programs are definitely not for everyone. For the average consumer, opting for a credit card with no annual fee and modest rewards is generally the way to go. But for people with high incomes (and spending budgets) a premium loyalty program is an obvious choice.
Visa Infinite Benefits
The Visa Infinite and Infinite Privilege programs are largely targeted towards more affluent and established professionals. As such, the benefits of the program are tailored toward this group.
Travel and Hotel
At its core, Visa Infinite is all about the travel benefits. Through the Luxury Hotel Collection, Visa Infinite cardholders get exclusive access to perks when booking through www.visainfinite.ca. The collection is impressive. There are over 900 worldwide properties including some of the most intriguing and prestigious hotels and resorts in the world. The following benefits come with every booking:
Best available rate guarantee – Get the best hotel rate in town. If you find a better rate at a similar hotel within 24 hours of booking, your hotel will match or beat the competition.
Automatic room upgrade – At check-in (and based on availability), you will be upgraded to the next highest room class.
3PM check-out – Contact the front desk and request late checkout. Yay, sleeping until noon!
Complimentary continental breakfast – For the length of your stay, you and one guest will receive complimentary continental breakfast daily.
Free in-room Internet – Yep, you won't have to pay for Internet.
$25 food or beverage voucher – Good for food or beverage within the hotel.
VIP Guest Status – It's not exactly clear what this benefit entails and the site states, "services and amenities differ by property."
Food and Drink
Enjoy great food and fine wine in private, cozy dining settings. The Visa Infinite Dining Series offers wines selected by connoisseurs. Enjoy food served by world renowned chefs in Vancouver, Calgary, Toronto, Ottawa and Montreal.
Sports and Entertainment
Get early access to sporting and entertainment tickets before the general public. Movie goers can enjoy advance tickets and access to the VIP lounge at TIFF. Other benefits include the Up Close & Personal Visa Infinite Music Series experiences and exclusive sports experiences for your favourite teams.
Concierge
Cardholders get access to their own personal concierge there to help them 24 hours a day, 7 days a week with. Get help booking travel, arranging car rentals, or other personal services. Forgot your anniversary? Your concierge can help get some flowers delivered ASAP!
Additional Benefits
Most credit cards in the market today come with many of the following benefits. However, you will generally find these benefits are better than Platinum or other cards. Since each credit card can come with different benefits, you'll need to read the fine print for the details for each category. For example, you might find select Visa Infinite cards come with higher travel insurance coverages.
Travel insurances
Zero Liability
Emergency Card Replacement & Emergency Cash Service
Lost/Stolen Card Reporting
Emergency Medical / Legal Assistance
Visa Infinite Credit Limits
When you apply for a credit card, the bank will analyze your credit profile and determine what your credit limit will be. Visa Infinite cards come with credit limits of at least $20,000 or no pre-set spending limits at all. With higher credit limits comes increased income and credit requirements.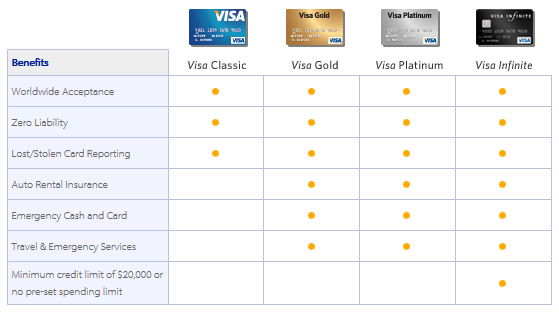 Visa Infinite Privilege Benefits
In addition to the above benefits, Infinite Privilege cardholders get access to even more perks.
Global Airport Lounge Access – Enroll to receive a complimentary membership to Priority Pass and get six complimentary visits to premium lounges worldwide.
Dedicated VIP security fast track lane – Dedicated VIP security fast track lane at select Canadian airports
Airport parking & valet discounts – Get discounts on parking and valet services at select Canadian airports.
Golf arrangements – Your concierge can book tee times or compete golf getaway packages.
Visa Infinite Credit Card Options
Here is a list of every Canadian credit card that carries the Visa Infinite and Visa Infinite Privilege benefits:
CIBC
TD Cards
Scotiabank Cards
RBC Cards
Laurentian Bank Cards
The Bottom Line
The Visa Infinite and Visa Infinite Privilege loyalty programs are designed for savvy spenders who demand a higher level of service from their credit card issuer. With built in benefits for frequent travellers these cards can make any travel more convenient and more rewarding.
The Visa Infinite program is only available with credit cards that carry an annual fee. As with any product or service, each individual must determine if there is enough value to offset the costs.
Since Visa Infinite is built in to the card, be sure to look at the addition reward programs associated with these cards. For example, the Aeroplan, Avion, GM, and British Airways rewards programs are built on top of the Visa Infinite cards.
With all the benefits, it's easy to see the value in Visa Infinite cards. And with juicy sign-up bonuses and reduced annual fees, now's a great time to step up to a premium credit card.
---
ADVERTISING DISCLOSURE: CreditCardsCanada.ca has business relationships with some credit card issuers featured on this site. We may receive compensation from these issuers when consumers apply for and/or are approved for a credit card through links on this website. For example, when a visitor clicks on an "Apply Now" button, we may be compensated if that visitor is approved for a card. Read More