Square Unveils Plans for a New Chip-and-PIN Credit Card Reader
Posted August 7, 2014
in Business, News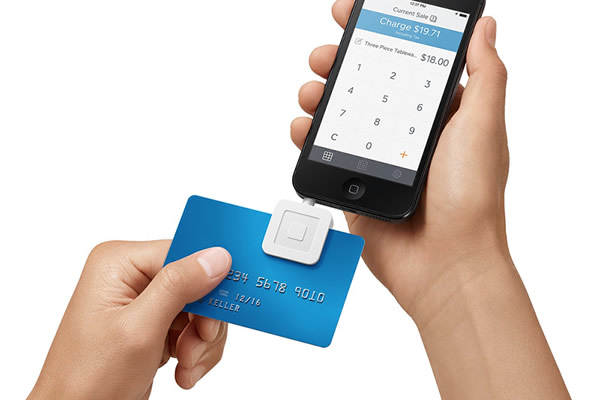 The mobile payment market is heating up. Square, the company behind the wildly successful app that transforms smartphones into virtual point of sale devices, announced plans for a new credit card reader able to accept Chip-and-PIN credit cards.
Set for release in 2015, with the widespread adoption of Chip-and-PIN credit card technology, Square's card reader could be a real game changer. Let's take a look at how the new card reader will benefit Square and consumers alike.
Shortcomings of Traditional Credit Cards
Credit card fraud is a big issue in Canada. In 2013, over 693 thousand accounts were the victim of credit card fraud, with an average loss of $671 per account (Source: Canadian Bankers Association PDF). With the widespread adoption of Chip-and-PIN credit card technology, it has helped reduce domestic credit card counterfeiting by more than 23% from 2012 to 2013 (Source: Canadian Bankers Association infographic).
Chip-and-PIN credit card transactions are a lot more secure than traditional magnetic stripe transactions. When you make a purchase with your Chip-and-PIN credit card, a one-time code is created that moves between your card's chip and the retailer's point of sale terminal; the data is useless except to the parties involved.
Credit card skimming remains a major concern for credit cardholders. Last year, U.S. retailer Target was the victim of a widespread skimming attack when 40 million credit card and debit card accounts were compromised. Once the fraudster has your credit card information, they can copy it onto a bogus card and begin racking up charges at your expense. While traditional magnetic stripe credit cards are easily cloned, Chip-and-PIN credit cards are nearly impossible to duplicate.
Square Looking to Capitalize on Chip-and-PIN Technology
Square, PayPal and Amazon are all looking at taking advantage of Chip-and-PIN technology by releasing credit card readers. With Chip-and-PIN credit cards already commonplace in Canada, there could be a real opportunity for companies and consumers. While making a dongle that plugs into a smartphone and reads magnetic strips is far from rocket science, creating a device that can validate PINs is a lot more complex. The good news is that companies like Square are willing to spend to money to develop these sophisticated devices.
You may have heard of Square for its wallet smartphone app that allows you to make everyday purchases without the presence of your credit card. While retailers have been slow to adopt mobile payments, Square has seen its fair share of success with its app. Retailers like Starbucks have been quick to jump onboard, letting customers to buy their favourite latte with the app.
For retailers, using the Square app for everyday purchases is quick and painless. Retailers must first download the Square app and purchase a credit card reader that plugs into a smartphone or tablet. Once the card reader is set up, as long as retailers have Internet access they can process credit card payments instantly.
Why Square is a Hit with Small Business
Offering credit card as a method of payment can be expensive, especially for small businesses. With the widespread adoption of Chip-and-PIN technology, point of sale devices will be even more costly. Retailers may not have a choice except to start accepting Chip-and-PIN credit cards, as issuers are increasingly holding retailers liable for fraud charges who fail to adopt new technology.
Square has been able to achieve moderate success in the mobile payment space due to its sleek and sophisticated design, and low cost approach for accepting credit card payments. If you're a small business owner looking to offer credit cards as a method of payment, Square might just be the low cost solution you're looking for! With Square, retailers pay either a flat fee of $275 per month or a fee of 2.75 per transaction.
The Bottom Line
Square along with rivals PayPal and Amazon could really shake up the mobile payment space this year and beyond. With small businesses now able to accept credit card payments, it's right on trend as more consumers go cashless. The big winners out of this look to be consumers who will have more options than ever before when it comes to paying for everyday purchase.