The Launch of the New PC Optimum Reward Program
Posted February 1, 2018
- updated February 16, 2018
in News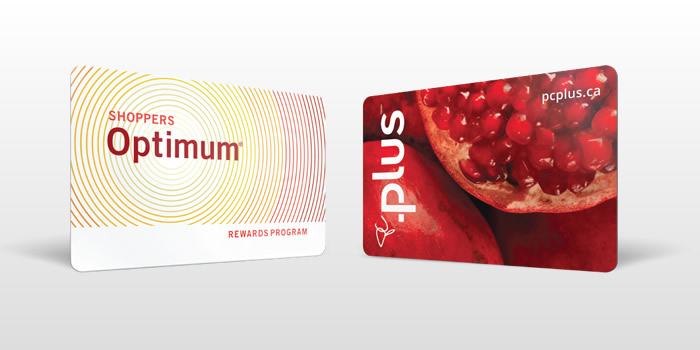 February 1st is the official launch date of the new PC Optimum loyalty reward program. This is the name of the rewards program merger cardholders have been anticipating for years. Loblaw and Shoppers Drug Mart announced back in November 2017 that they were merging the two popular loyalty point reward programs into one.
As of February 1st, 2018, if you're a member of PC Plus or the Shoppers Optimum, you'll be grouped into a new points program, known as PC Optimum. The new program lets you earn and spend rewards at 2,500 retailers.
Let's take a look at some of the details about the PC Optimum reward program.
A Brief Recap of the Merger
Ever since Loblaw purchased Shoppers Drug Mart in 2014, the reward program merger has been on the radar. In fact, some people are surprised that it took so long. Both programs are super successful in their own right. PC Points has 11 million members, while Shoppers Optimum has 8 million members. And about half the members in either program are already enrolled in the other.
By merging the two programs, Loblaw is able to reduce its administrative costs by only looking after one rewards program. It also saves on marketing costs by only promoting one reward program, not to mention it encourages cardholders to shop at both retail chains.
What Happens to my Points After the Merger?
If you're a current cardholder of PC Plus or Shoppers Optimum, you've probably wondering what will happen to your points. Loblaw has promised the program merger will go smoothly. (Although that remains to be seen. There were a few hiccups when PC Financial clients were moved over the Simplii Financial.)
You don't need to lift a finger. Your points should be automatically transferred over from PC Plus and Shoppers Optimum to the new PC Optimum reward program. (All provinces except Quebec, where the Pharmaprix Optimum program will come to an end January 31, 2018. You'll have until May 2nd to redeem all your points.)
Will my Points be Worth the Same?
Whenever there's a change to a rewards program, a major concern of cardholders is whether their points will be worth the same, and rightfully so. Devaluing of reward points is prevalent, especially in the travel rewards space. A flight that cost 10,000 points last year can easily cost 11,000 points this year, making your points less valuable.
There seems to be some confusion about whether the PC Optimum program devalues reward points or not. Shoppers Drug Mart Cashiers don't appear to be helping, confusing cardholders even more. The fact of the matter is, your PC points and Optimum points will be worth the same post-merger.
Under the new program, PC points will be converted to new PC Optimum Points at a ratio of 1 to 1. For example, if you have 20,000 PC Points, you'll get 20,000 PC Optimum points, worth $20.
The conversion rate is a little more complicated for Shopper Optimum points. If you have 8,000 Optimum points, they'll be worth 10,000 points under the new program or $10 (a conversion rate of 1 to 1.25). If you have 38,000 Optimum points, they'll be worth 10,000 points under the new program or $60 (a conversion rate of 1 to 1.58). And if you have 95,000 Optimum points, they'll be worth 175,000 points under the new program or $170 (a conversion rate of 1 to 1.79). The PC Optimum website has a handy calculator to help to help figure out how many points you'll have post-merger.
The Bottom Line
The good news for cardholders is that your PC Optimum Points will still be worth the same after February 1st. On top of that, you'll be able to redeem your points towards rewards at both Loblaw and Shoppers Drug Mart chains. It's a win-win situation for cardholders and Loblaw, too. We can't wait to see what other goodies the new PC Optimum program has in store for cardholders!