MBNA Rewards Platinum Plus® Mastercard® Review
Posted March 13, 2017
- updated June 25, 2021
in Reviews

Credit card issuers are constantly trying to push the envelope when it comes to super premium credit card offerings. But for many credit card users, high-annual fee cards are just not a good fit – even with all their perks.
MBNA has hit a sweet spot with the Rewards MasterCard. First off, there is no annual fee, making it great for cost conscious consumers. On top of that, there's a generous sign up bonus. To take advantage, simply activate the card and make $500 in purchases within 90 days to earn 5,000 points. Then, simply enroll in e-statements for an other 5,000 bonus points. Be sure to enroll within 90 days to get the paperless bonus.
There's also a very flexible rewards program. Choose from cash back, gift cards, merchandise, travel, or even charitable donations. For the first 90 days you can earn 4 points for every $1 spent on eligible restaurant, grocery, digital media, membership and household utility purchases. After that it drops to 2 points for every $1 spent on eligible gas, groceries and restaurant purchases with a $10K cap on each. You'll earn rewards on a $1 spent / 1 point earned basis (1%) for all other purchases, which is pretty standard on reward cards.
MBNA Rewards Platinum Plus® Mastercard®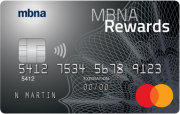 Apply Now
This offer is not available for residents of Quebec. For residents of Quebec, please
click here
.
Earn 4 points†† for every $1 spent on eligible restaurant, grocery, digital media, membership and household utility purchases during the first 90 days, and 2 points‡ for every $1 spent on eligible purchases in those categories thereafter – in both cases, these earn rates apply until $10,000 is spent annually in the applicable category. 1 point‡ for every $1 spent on all other eligible purchases

5,000 bonus points†† ($25 in cash back value) after you make $500 or more in eligible purchases within the first 90 days of your account opening

5,000 bonus points††($25 in cash back value) once enrolled for paperless e-statements within the first 90 days of account opening
Rewards Catalogue
Rewards credit cards are only as good as the available redemption options. That's one reason why we love the MBNA Rewards cards. Choose from an extensive selection of merchandise and gift cards from a wide variety of retailers. The selection is constantly updated so there's always something fresh to shop for. Here's a link to the catalogue: https://onlinetravelandrewards.rewardsonline.ca/
Don't like what you see? You can always redeem your points for gift cards from your favourite retailers. One major complaint with other rewards programs is a stale selection of redemption options, but MBNA does an excellent job of keeping the rewards updated and fresh. If you're a big spender, you might earn enough points to redeem for a brand-new shiny iPhone (a lot better than dropping $1,200 at the Apple Store).
Bottom Line
The MBNA Rewards Platinum Plus® Mastercard® is a nice option for those seeking a no annual fee rewards card with flexible point redemption options. While the rewards earning rate is a very standard net 1%, the trade off is not paying an annual fee. A rewards card is only as good as its redemption options. The flexibility in rewards is a nice perk and makes this a card worth serious consideration. If you're looking for a general rewards credit card, you'll be hard pressed to find a better card than this one.
---
ADVERTISING DISCLOSURE: CreditCardsCanada.ca has business relationships with some credit card issuers featured on this site. We may receive compensation from these issuers when consumers apply for and/or are approved for a credit card through links on this website. For example, when a visitor clicks on an "Apply Now" button, we may be compensated if that visitor is approved for a card. Read More
This review is the view of CreditCardsCanada.ca. Views expressed do not represent the views of any member of the TD Bank Group.