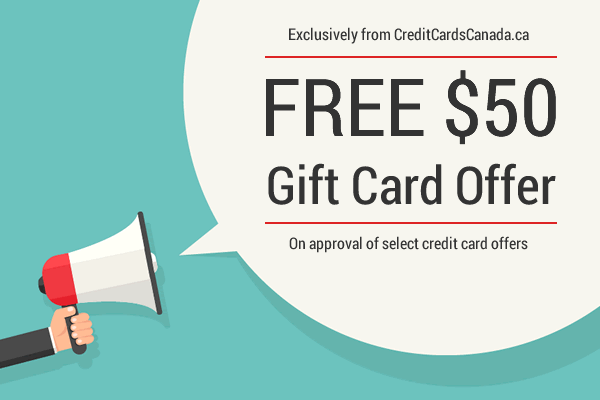 They say the best things in life are free. They couldn't have been more right! If you're on the lookout for a new credit card, this is a deal you simply cannot pass up! CreditCardsCanada.ca is giving away free $50 gift cards on approval of select credit cards. What's the catch? There is no catch! Once your credit card application is approved you'll receive your gift card code via email.
Signing up is easy – it can be done in less than five minutes. Simply click on the card of your choice, choose a gift card, fill out the short form and apply for the card. Once you're approved, CreditCardsCanada.ca will automatically email your gift card code of choice. It's that easy! A $50 gift card is a great way to help with date night, back to school spending, or a night out at the movie theatres. Don't delay – this stellar offer only until runs until October 31st!
Receive your Free $50 Gift Card in 3 Easy Steps:
Select the credit card of your choice here and complete the simple offer form on CreditCardsCanada.ca.
Once you've clicked the "Apply Now" button, you'll be directed to the credit card application. Complete the easy online application on the credit card issuer's website and receive confirmation that the application was approved.
3. Once you're approved for the credit card, you will receive one free $50 gift card code from CreditCardsCanada.ca via email. It's that simple!
The available gift cards offer something for everyone:
Amazon.ca – Get a $50 Amazon.ca e-gift card delivered to your email. Shop at the world's largest online retailer. Choose from thousands of products including books, movies, electronics, video games, beauty, and more. There's something for everyone at Amazon! Best of all, when you spend at least $25 on qualifying merchandise you'll receive free shipping.
Giftpass – Get a $50 GiftPass® code. GiftPass allows you to redeem your code at GiftCertificates.ca for over 60 gift card brands. Your gift card will arrive in the mail within 5-7 business days.
We have credit cards in all shapes and sizes that qualify for this fantastic offer. If you're a big spender, choose a premium credit card. If you're a frugal spender, choose a no-annual-fee credit cards that offers great reward points and low interest rates. If you're carrying a balance, choose a low rate credit card to lower your interest charges. We're also working to add cards from other issuers, so check back soon!