Walmart and Visa in Public Spat Over "Unacceptably High" Interchange Fees
Posted June 20, 2016
in News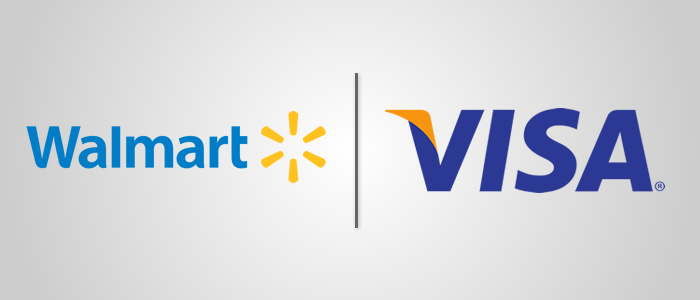 Credit card interchange fees are once again making news headlines. In what has been dubbed as the battle of Goliath versus Goliath, Walmart and Visa are in a battle over interchange fees .
Walmart is upset over high interchange fees. Walmart says is spends more than $100 million each year on interchange fees for credit cards like Discover, MasterCard and Visa. The big box retailer has threatened to reject Visa cards at its more than 400 locations in Canada, starting at its Thunder Bay stores on July 18. This would be a big blow to Visa, as Walmart is one of its biggest clients.
Visa isn't going down without a fight. Visa issued an open letter last week telling its side of the story. Visa said it's disappointed in Walmart for making this a public fight. Visa says it offered Walmart a very competitive rate, but that wasn't enough. Visa alleges Walmart wanted lower interchange fees than local groceries, pharmacies, convenience stores, charities and schools.
Why Interchange Fees Matter
There's no denying it, Canadians love their credit card rewards, but those rewards come at a cost. You may not realize it, but every time you swipe or tap your credit card at a retailer, it costs them money. Interchange fees are paid by retailers for the benefit of accepting credit cards. Some retailers swallow the high interchange fees, but some of that is passed along to consumers in the form of higher prices.
Canada has among the highest interchange fees in the world. In fact, the interchange fees in Canada are five times higher than Europe and three times higher than Australia. The interchange fees are even heftier on so-called premium credit cards. High interchange fees prompted MasterCard and Visa to cap their interchange fees at an average of 1.5 percent by April 2015 for the next five years.
Small Business Rooting for Walmart?
Small business has long voiced its displeasure with high interchange fees. Mom and pop retailers with razor thin margins are put in a difficult situation: accept credit cards with their high interchange fees, or shun them and risk losing sales?
Small businesses have long been advocating for lower interchange fees, that's why they're rooting on Walmart in its battle with Visa. It's the hope of small businesses that the public battle will raise greater awareness of interchange fees with everyday shoppers and eventually lead to lower interchange fees across the board.
Costco and AmEx
This isn't the first time a retailer has pushed back over high interchange fees. Costco and American Express failed to come to an agreement in late 2014, ending a 15 year relationship. Starting January 1, 2015, Costco began accepting MasterCard and offering its own Capital One Canada co-branded MasterCard, which also acts as a Costco membership card.
The situation between Walmart and Visa is slightly differently. Walmart has over four times the number of locations across Canada. It also isn't as tightknit – you don't need a membership to shop there. Could we see a similar situation between Walmart and Visa? Only time will tell.
The Bottom Line
It will be interesting to see how the situation between Walmart and Visa plays out. You don't see big retailers like Walmart push back often on interchange fees. If Walmart and Visa can't come to an agreement and Visa cards are rejected from all its Canadian locations, will Walmart change its tune if same store sales start to drop? It might make sense for Walmart shoppers to switch to a MasterCard in case no agreement is made.
Many customers are unaware of interchange fees. This will shine the spotlight on them and perhaps encourage more businesses, big and small, to push back on interchange fees. The Federal Finance Minister Bill Morneau mentioned he is watching this situation closely. Only time will tell if cooler heads prevail.