Tangerine Money-Back Credit Card Review
Posted June 7, 2016
- updated October 24, 2018
in Reviews

Tangerine isn't your typical bank. Instead of taking every opportunity to nickle and dime their customers, the bank encourages Canadians to "save their money." Does the Tangerine card also live up to that motto?
Tangerine has been around in one shape or another since 1997 but was acquired by one of the big banks, Scotiabank, in 2012. However, its unique product and service offering remains a crowd-pleaser. The orange bank has proven popular with Canadians, attracting over two million clients to date.
Tangerine's business model is different from that of the big banks. The big banks have branches on almost every corner, but Tangerine operates as a virtual bank with only a handful of "cafés" in big cities across Canada. Tangerine makes banking simple – clients can meet their daily banking needs online, using their mobile phone and by telephone. Tangerine's low overhead costs means it can offer better rates than most of the big banks on its products.
Tangerine has made a habit of making a splash in the banking industry, an industry traditionally resistant to change. Its first venture into the already-crowded credit card space is no exception. Tangerine wanted to make sure it got its first credit card right. It did a soft launch before opening applications for its Money-Back Credit Card to everyone. Not only did they get it right, it might possibly be the perfect cash back credit card. A bold statement indeed, considering strong offers from the big banks.
Is Tangerine the Perfect Cash Back Card?
The Tangerine Money-Back Credit Card is unlike any credit card currently available on the market. The most notable feature is the ability to select 2 specific spending categories that allow you to earn 2% cash back. This feature allows cardholders to tailor the card to their unique spending habits. The categories can be changed easily throughout the year if needed. Every other purchase earns 0.5%, and there's no annual fee.
Tangerine Money-Back Credit Card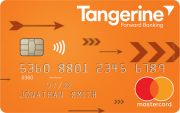 Apply Now
Secure application on the Tangerine MasterCard website
Earn 2% Money-Back Rewards on your everyday purchases in two 2% Money-Back Categories of your choice, and 0.50% Money-Back Rewards on all your other everyday purchases.

No annual fee

Money-Back Rewards are earned automatically on everyday purchases and paid monthly. These can be applied to your Credit Card balance or redeemed into your Savings Account.
Balance Transfer:
1.95% for 6 statement periods
Cash Back Details
Cash Back: Earn 2% cash back in two spending categories of your choosing and 0.5% on everything else.
Bonus Spending Category: Deposit your cash back into your Tangerine Savings Account and get a third 2% spending category.
Instant Rewards: Cash back is paid monthly. It can be used toward your credit card balance or deposited into your savings account.
No Limits: Most credit cards cap you on the amount of cash back or reward points you can earn. Not Tangerine! There's no limit on the amount of cash back you can earn, making it ideal for spenders, big and small.
Choose Your Spending Categories: This is what really sets Tangerine's credit card apart from the competition. Tangerine lets you choose the 2% spending categories that best suit your needs. Here are the categories and associated Merchant Category Codes (MCC):

Drug Stores: merchants classified as "Drug Stores/Pharmacies" (MCC 5912)
Eating Places: merchants classified as "Eating Places, Restaurants, Bars, Lounges, Discos, Nightclub Taverns and Fast Food Restaurants" (MCC 5812 – 5814)
Entertainment: merchants classified as "Sports Venues, Theatres, Amusement Parks, Carnivals, Circus, Tourist Attractions and Exhibits, Movie Theatres, Zoos, Bands, Orchestras, Aquariums" (MCC 7941, 7922, 7996, 7991, 7929, 7998, 7832, 7829)
Furniture: merchants classified as "Home Furnishing Stores, Furniture Reupholstery" (MCC 5712, 5719, 7641)
Gas: merchants classified as "Service Stations" (MCC 5541/5542)
Grocery: merchants classified as "Grocery Stores and Supermarkets" (MCC 5411, 5422, 5462)
Home Improvements: merchants classified as "Hardware Stores, Home Supply Warehouse Stores, Lawn and Garden Supply Stores, Glass/Paint/Wallpaper Stores, Florist supplies nursery stock & flowers, Floor Coverings, Drapery and Window Coverings" (MCC 5251, 5200, 5261, 5231, 5718, 5713, 5714)
Hotels-Motels: merchants classified as "Lodging, Hotels, Motels, Resorts or by Property name" (i.e. Fairmont, Marriott, Holiday Inn, etc.) (MCC 7011, 3500-3828)
Public Transportation and Parking: merchants classified as "Automobile Parking Lots and Garages, Public Transportation (including Buses, Trains, Ferries), Taxis, Road Tolls" (MCC 7523, 4111, 7524, 4121, 4784)
Recurring Bill Payment: Recurring bill payments are defined as payments made on a monthly or other regular basis, and which are automatically billed by the merchant to your Tangerine Money-Back Credit Card, such as your monthly phone bill. Not all merchants offer recurring payments, and not all ongoing payments will be considered "recurring payments" for purposes of this category. Please check with your merchant to see if your recurring payment qualifies.
Additional Card Details
Low Foreign Conversion Fee: Save big on your next trip. For those with the travel bug, the foreign conversion fee is only 1.5 percent.
Share the Wealth: Add authorized users to your account at no additional cost.
Orange Alerts: Keep up to speed on your account. Email alerts are automatically sent to you so you always know what's happening.
Added Protection: Tangerine protects you no matter where you are in the world. Get up to $60,000 of protection in purchase assurance and extended warranty.
Purchase Assurance: Protects you for loss, theft or damage above and beyond other insurance 90 days from your purchase.
Extended Warranty: Has the manufacturer's warranty expired on a product you recently bought? No worries! You're protected for an additional year.
The Perfect Companion to the Tangerine Banking Accounts
If you are considering signing up for the Tangerine card, it makes sense to also get a Tangerine savings account. As a cardholder, you have two choices for redeeming your cash back rewards. You can have the cash back deposited onto your credit card and use it to pay down your balance. To encourage cardholders to save their money, Tangerine also lets you deposit the cash back into your savings account. If you do this, you get an additional spending category for a total of 3 categories. Redemption is a breeze – once you choose how you'd like your cash back to be redeemed, sit back and wait for the money to start rolling in.
Savings Account
Tangerine's savings account is what put Tangerine on the map. Tangerine makes savings simple – there's no minimum balances or fees, helping your savings grow faster. Tangerine offers a decent savings account rate of 1.25 percent (as of October, 2018), near the top among the big banks. Pay yourself first by setting up an automatic savings program and watch your savings grow even faster. Open different savings accounts for different financial goals like saving toward a home, car or vacation. For a limited time, earn up to 2.75 percent interest for the first six months when you become a new client.
Chequing Account
Tangerine isn't just a place to park your money – take care of your daily banking needs with its no-fee chequing account. While other banks nickel and dime you on fees, at Tangerine you won't pay any of those pesky fees and service charges for your daily banking needs. Accessing your money is easy – enjoy access through Scotiabank's vast ABM network. Already have a chequing account with another bank? Tangerine's unique Switch Assistant makes changing banks simple. Did we mention clients get free email money transfers? What's not to love?
How Does the Tangerine Card Stack Up Against the Competition?
Are you sick of the red tape that comes with many travel rewards credit cards? People are looking for something simple, and Tangerine delivers with its cash back credit card. There's nothing out there on the market like it and cash back is a competitive category. Tangerine stands head and shoulders above the competition.
Tangerine's credit card is unique since it pays cash back monthly, while other cards only pay out once per year or have minimum thresholds (possibly taking the fun out of using the card).
Tangerine makes it easy for new customers to sign up. Get high cash back earnings without the high income requirements of other cards.
The interest rate isn't low, but there isn't a cash back credit card on the market with a low rate.
Make your cash back dollars go further by choosing from 10 spending categories. Besides groceries and gas, choose recurring bills, hotel-motel and home improvements, among others.
The Bottom Line
Tangerine has once again upped the ante with its new cash back credit card. To make the most of this credit card, choose the spending categories where you spend the most – and of course, don't carry a balance. If you haven't signed up for Tangerine's credit card, what are you waiting for? Sign up for the card here. With Tangerine's cash back credit card, it's never been easier to "save your money."
---
ADVERTISING DISCLOSURE: CreditCardsCanada.ca has business relationships with some credit card issuers featured on this site. We may receive compensation from these issuers when consumers apply for and/or are approved for a credit card through links on this website. For example, when a visitor clicks on an "Apply Now" button, we may be compensated if that visitor is approved for a card. Read More