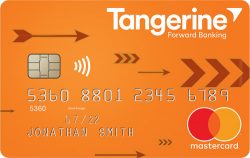 Tangerine Money-Back Credit Card 
Secure application on the Tangerine MasterCard website
Card Features
Earn 2% Money-Back Rewards on your everyday purchases in two 2% Money-Back Categories of your choice, and 0.50% Money-Back Rewards on all your other everyday purchases.
No annual fee
Money-Back Rewards are earned automatically on everyday purchases and paid monthly. These can be applied to your Credit Card balance or redeemed into your Savings Account.
Get your Rewards deposited into your Tangerine Savings Account and get a 3rd 2% Money-Back Category.
No limit on the amount of Money-Back Rewards you can earn on your everyday purchases
Interest Rates
Purchase APR: 19.95%
Balance Transfer APR: 19.95%
Cash Advance APR: 19.95%
Pros
High money-back earnings with no annual fee
Great companion to Tangerine banking products
Cons
Lower standard cash back earnings than competing cards
Bonus Offer
Introductory Rates
1.95% on balance transfers made within 30 days of your Account opening for the first 6 statement periods.
Reward Earnings Rate
Up to 2% money back
Additional Details
Grace Period: 21 days
Fees
Balance Transfer Fee: 1-3%, or minimum of $5 (unless reduced or waived)
Cash Advance Fee: $3.50 within Canada, $5.00 outside Canada
Foreign Transaction Fee: 2.5%
Over Credit Limit Fee: $25
CreditCardsCanada.ca Review
There's a lot to love about the Tangerine Money-Back credit card. In the world of cash back cards, earning rewards on every purchase is the standard. Credit card companies have slowly upped the ante by offering more cash back for "everyday" purchases such as gas and groceries. Tangerine has taken that concept to the next level by offering the ability to choose two spending categories where you can earn 2% cash back.
There are 10 different categories to choose from including drug stores, restaurants, gas, groceries, home improvement, hotels, recurring bill payments, and more.
Being able to customize the rewards program to your spending habits is a great way to maximize your rewards, and it's fun too! And you're not locked in to the categories – you have the ability to change them throughout the year.
Tangerine offers more than a great credit card, they also offer chequing and savings accounts that offer more than traditional banks. Plus if you sign up for the savings account and deposit your cash back into that account you will get a third 2% spending category. It definitely makes sense to bundle services with Tangerine.
While the interest rate isn't low, we don't recommend carrying a monthly balance on any rewards card including the Tangerine card. There is a 1.95% balance transfer offer for 6 months which is a pretty good deal for a cash back card. For international travellers the foreign conversion fee is 2.5%, on par with competitors.
Add it all up and the Tangerine Money-Back credit card is an excellent offer and stands out among the competition. Click here for the full Tangerine Money-Back review.