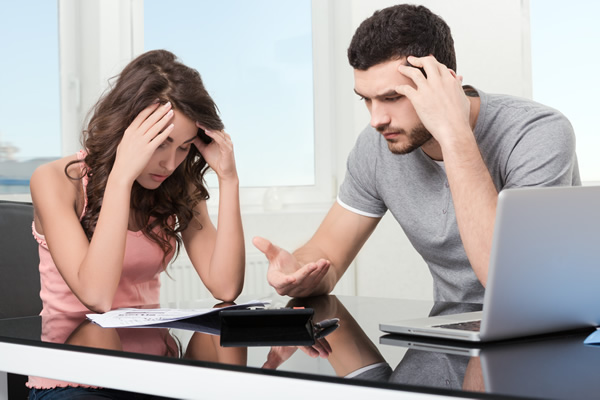 Bankers in the Great White North are less optimistic than our banking neighbours south of the border when it comes to credit card debt. A recent survey by analytics software firm FICO found that Canadian bankers are more concerned about credit card delinquencies than American bankers. With the household debt-to-income ratio at 162 per cent for the fourth quarter of 2014 in Canada, it should come as no surprise credit card debt is a major concern.
Credit Card Delinquencies on the Rise
The survey found that 54 per cent of Canadian bankers believed credit card delinquencies will rise over the next six months, versus only 44 per cent of American bankers. This marks the fourth straight quarter pessimism towards credit card delinquencies has risen.
There is a glimmer of good news: the survey also found that 59 per cent of Canadian bankers believed fewer consumers would be requesting an increase to their credit limit, compared to 61 per cent of American bankers.
Despite the concern from Canadian bankers, credit card delinquency remains relatively low in Canada. In fact, it has been on a steady decline since the beginning of 2010. The delinquency rate, defined as an outstanding balance at least 90 days past due, stood at 0.78 per cent in the quarter ending October 31, 2013 – that's down from a peak of 1.34 per cent for the quarter ending January 31, 2010, experienced after the financial crisis.
What Happens If I Miss a Credit Card Payment?
Have you ever wondered what would happen if you missed your credit card payment? Missing your credit card payment means you aren't even able to make the minimum payment – the greater of 2 per cent or $15. You have to be in a pretty tight situation to do that.
Three things can usually happen: you're charged a late fee, your credit score is damaged, and your interest rate goes up. Most credit card companies will charge you a late fee in the range of $25 to $35 right off the bat. Paying a late fee is annoying, but here's the kicker: it will get added to your outstanding balance and start accruing interest right away.
While a late fee is bad, the next two consequences are far worse. Damaging your credit score is the last thing you want to do when you're in a financial bind. If you're behind on your bills, lender will be less willing to extend you credit if you aren't even able to make your minimum payment.
Credit companies often offer consumer teaser rates, such as a 0 per cent interest over the first six months for balance transfers. By not paying your minimum payment on time, you can disqualify yourself from the low introductory rate and see your interest rate skyrocket. For example, instead of paying 0 per cent interest, your interest rate can jump to 18 per cent or higher – ouch!
As you continue to miss payments, the situation only gets worse. Without a steady payoff, the debt will continue to grow. After several missed payments the credit card company will generally freeze the account and eventually send it to a collections agency – prompting more aggressive payment requests. The delinquency will show up on your credit profile and seriously damage your credit score for years to come.
Alternatives for Those in a Tight Financial Spot
If you're caught in a financial bind – you lose your job or fall ill – ignoring your financial responsibilities can put you in even more dire straits. For those in this unfortunate situation, there are alternatives. For example, you can take out a debt consolidation loan at a lower interest rate, or you can seek assistance from a credit counselor. However, there are no quick fixes so it's always wise to stay on top of your financial responsibilities – even in times of hardship.
The bottom line is ignoring credit card debt will not make it disappear. You have to make a game plan; otherwise, you can find yourself heading straight towards bankruptcy.