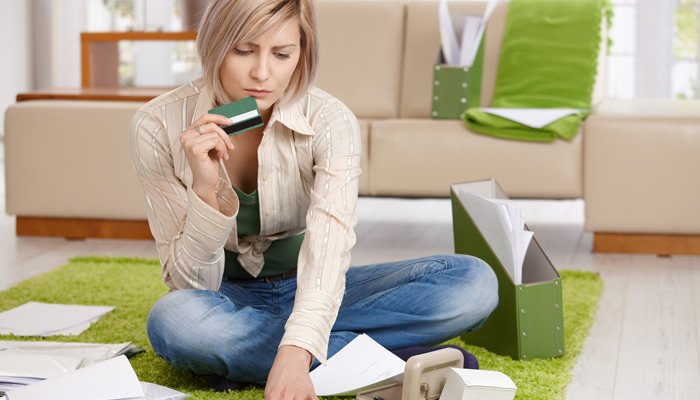 Happy new year, everyone! We hope your holidays were happy and relaxing. Credit cards may be the last thing on your mind in January (until you get your statement with your holiday spending), but here's why they should be top of mind. One of the most common New Year's Resolutions is to pay down debt. If you're carrying a balance on your credit card, it's the perfect place to start.
Here are five credit card tips to start the new year off right.
If you carry credit card debt, include it in your budget
Do you have a family budget? If so, give yourself a pat on the back. You're ahead of most people. Does it include credit card debt? Give yourself a high five! Many of us don't include credit card debt in our monthly budget. (Maybe we're hoping it will go away on its own.)
If you're carrying a balance on your credit card, credit card debt is as much of an expense as your mortgage or rent. Make sure to include it and come up with a plan to pay it down as quickly as possible to reach glorious debt freedom in 2017.
Review your credit card spending from 2016
Reviewing your credit card statements for the previous year is a useful activity. It can also be an eye-opening experience. Overspending on the things we love – entertainment and restaurants – puts us further away from the goals we hope to achieve in the new year. For instance, you may have budgeted $150 per month for restaurants, but if you end up spending $300, aim to do a better job of watching your spending and spend less in 2017.
Redeem some rewards!
Instead of stockpiling your credit card rewards, give yourself something for being responsible with your cards. There's no harm in treating yourself every once in a while. For example, if you've been working really hard, there's no harm in treating yourself to a vacation courtesy of your travel reward points. This is the perfect way to come back to work recharged and more productive.
By waiting to redeem your credit card rewards, not only can your points be devalued, but the reward program can impose new restrictions.
Review your rewards program. Is it still working for you?
Get in the habit of reviewing your credit card every few months – the new year is the perfect time! Assess your credit card whenever your spending habits and life situation changes. Common spending and life situation changes include starting a business, buying a home, the birth of a child and going back to school. Depending on these situations, your spending may increase or decrease. When this happens, ask yourself whether your rewards program is working for you. If it isn't, it might be time to…
Get a better credit card
If your credit card isn't working for you, it might be time to upgrade to a better card. For example, if you decide to start a family, you might be better off with an annual fee credit card with higher rewards accrual to take advantage of more spending on child-related expenses. Take the time to do the math and figure out if upgrading your credit card makes sense. If you decide to find a new credit card, when searching for a credit card, do your homework. Don't just sign up for the first offer you see. That way you'll maximize your rewards and minimize your fees.