Walmart vs. Visa Update: Walmart Lifts Visa Ban at all its Store Locations
Posted January 13, 2017
in News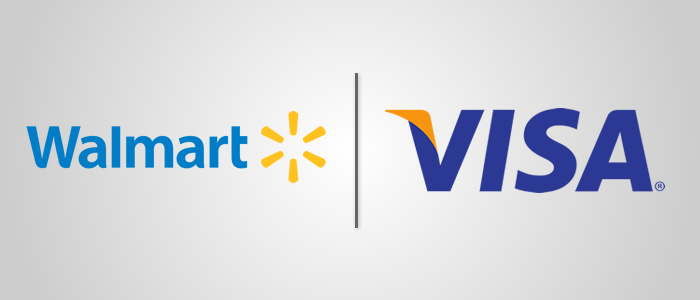 The six month feud between Visa and Walmart has finally come to an end. Both companies recently announced the agreement. It didn't take long for Walmart to start accepting Visa again – Visa credit cards were accepted the very next day on Friday.
"Visa cardholders can once again use their Visa credit cards as a form of payment in all Walmart stores across Canada. Visa credit cards will be accepted at all Canadian Walmart stores, including in Manitoba and Thunder Bay, Ont," said a Visa Canada spokeswoman in an emailed response.
The Battle of Goliath vs. Goliath
Dubbed the battle of "Goliath vs. Goliath," the world's largest retailer and the world's biggest credit card company had been in a spat over interchange fees ever since June 2016. Neither side refused to blink. This led Walmart to threaten to stop accepting Visa cards at all its store locations. However, Walmart didn't roll the Visa ban out all at once. It started with three stores in Thunder Bay in July, before expanding the ban to all its 16 stores in Manitoba in October.
Interchange Fees
At the heart of the issue were interchange fees. Those are the invisible charges credit card issuers charge retailers like Walmart every time you swipe (or chip) your favourite credit card to make a purchase. Retailers are typically charged a percentage of the total purchase price, but to complicate matters, different cards and different retailers have different rates. For example, so-called premium credit card tend to come with the highest interchange fees.
While interchange fees may seem invisible and are directly paid by retailers, consumers end up paying them in the end in the form of higher in-store prices. Walmart was upset because it claimed it was paying too much in interchange fees – over $100 million per year to be exact. The retail giant says for other payment methods like debit, it pays a flat fee for each transaction. Visa shot back that Walmart already receives preferential treatment, getting one of the lowest interchange fees in Canada.
Visa and Walmart are tight-lipped about the deal struck between the two sides. Neither side is willing to disclose the interchange fee negotiated, or who ended up on the winning end.
How will Smaller Retailers Fair?
While this may be a win for Walmart, it remains to be seen how this will affect other retailers. Dan Kelly, president and CEO of the Canadian Federation of Independent Business, has been vocal about interchange fees for many years. He's concerned that it could mean higher interchange fees for small retailers.
"Typically whenever there is a special deal created for one large merchant, it happens at the expense of smaller merchants. We're going to have to watch this really closely to see if this special deal for Walmart comes with higher prices for other smaller merchants," said Kelly.
The Bottom Line
For Visa cardholders in Thunder Bay and Manitoba, lifting of the Visa is good news. It can help start a broad discussion over whether Canadians are paying too much in terms of interchange fees. It will be interesting to see what happens the next time a big retailer like Walmart tries to negotiate with Visa. Will it ask for the "Walmart deal" too? Only time will tell.