Marriott Rewards Moment: A Masterclass Cook Off with Toronto Maple Leaf Alumni
Posted March 22, 2018
- updated April 17, 2018
in News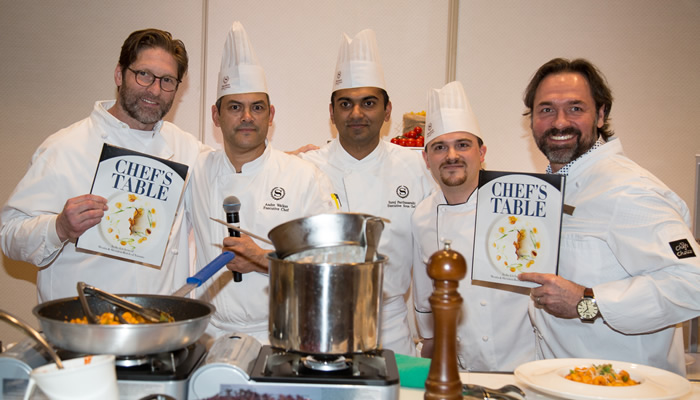 How would you like to sip cocktails and hang out with Toronto Maple Leaf alumni? If you grew up watching hockey like most Canadians, it's like a dream come true. And that's exactly what we had the opportunity to do as part of the Marriott Rewards Moments program.
In one of the first of many Moments events, Marriott Rewards and SPG members, along with members of the press, had the opportunity to get up close and personal with the Stanley Cup at the Sheraton Centre Toronto Hotel.
But that's not all – this was a Moments Masterclass Challenge. Not only did we have the opportunity to enjoy cocktails with Maple Leaf alumni Shayne Corson and Darcy Tucker and reminisce about hockey memories (Canada's national pastime), Shayne and Darcy took part in a cook off to find once and for all who was the best chef. In case you're wondering, it was a tie. The moderator wanted to keep the peace between the hockey legends.
After the cook off was finished, Moments members and the media had the opportunity to take photos and get autographs signed by the Maple Leaf alumni. Sound like fun? It was. And this is all part of a new partnership between the Moments program and the Toronto Maple Leafs.
Living in the Moment with the Moments Program
If you're like most people these days, you value experiences over stuff. What's better, getting a Justin Timberlake CD or taking in the Prince of Pop from suite seats on his Man of the Woods Tour? We're willing to bet the latter if you're a Justin Timberlake fan. It's moments like these that stay with us throughout our lifetime that the Moments program is all about delivering. Not a fan? Ok fair enough, but his one-take video is still pretty cool.
Hanging out with the Buds is just one of the many Moments Marriott Rewards and SPG members can partake in. Soon Marriott will be offering a whopping 100,000 new experiences in 800 destinations.
"This is a great new partnership with Maple Leaf Sports and Entertainment for the Maple Leafs. We have partnerships like this across the globe. Some examples are Major League Baseball, the National Basketball Association and Formula One Racing," Laura Pallotta, Vice President, Sales and Marketing, Marriott Hotels of Canada.
And if you're not a sports fan, no worries. There are plenty of other options. Other Moments categories includes travel, fashion and wellness. Simply put, there's something for everyone.
The SPG-Marriott Merger
In late 2016, Marriott International Inc. closed a $14B acquisition/merger of Starwood Hotels. The union has proven fruitful for Marriott and its shareholders. Mergers don't always go according to plan – just look at the launch of the PC Optimum program, where members are still complaining about lost points. If points aren't lost, oftentimes they're devalued.
The Canadian Marriott card is being cancelled. But MArriott is actively backing the SPG Card from American Express with a bonus offer for new applicants. SPG and Marriott loyalty programs are being operated separately for now, but that could change in coming years…maybe? Cardholders are a little anxious and rightfully so.
Can we expect a new Marriott Rewards credit card to launch in Canada in 2018? And will SPG and Marriott Rewards merge into one program at some point? Unfortunately, Marriott is being tightlipped about the program's future.
"Right now we aren't going to make any major announcements, but I will say that we're continuing on making sure that our members have great access through Marriott Rewards, SPG and Ritz-Carlton Rewards. When we launched from day one we were account linking and offering unlimited point transfers to make sure that our members feel recognized for their loyalty," said Pallotta.
The Bottom Line
Taking in a Marriott Rewards Moment firsthand, we can safely say that there's no other experience out there like it. If you're sick of redeeming your credit card reward points for "stuff," join the SPG or Marriott reward program and experience once in a life moments like these that are truly Instagram worthy.