How to Discuss Money With Your Spouse & Children
Posted February 27, 2014
in Personal Finance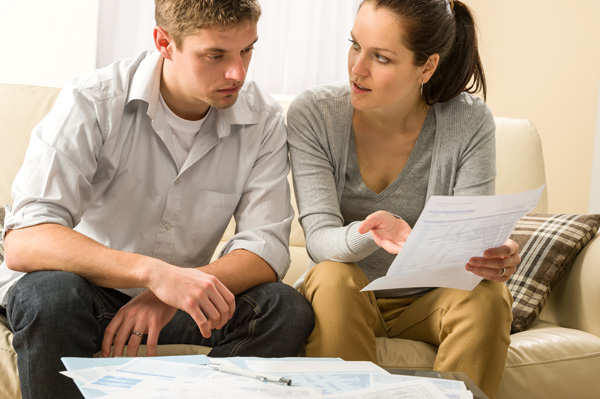 According to a leading market study conducted by Ipsos Reid, eleven percent of Canadians (roughly one in ten) say that they don't discuss financial problems with their spouse. In the same study, a significant portion of married Canadians (and Canadians in common-low relationships) indicated that they have relationship issues that directly stem from money problems.
Financial considerations influence nearly every aspect of our everyday lives — from where and how we work, to where we take our vacations, what we eat, and even how far we pursue our educations. That's why it's important to openly discuss money with not only your spouse, but also your children.
Sharing Money Matters with Your Spouse
When it comes to discussing financial issues with your spouse, it helps to categorize the topics and deal with them individually. Here are some of the key issues that should be regularly discussed:
Spending habits: You both need to be on the same pathway toward your financial future, so it's important to synchronize your spending habits. This may mean compromises along the way, as well as setting spending limits. It may also mean establishing rules about whether or not it's necessary to check with each other before spending certain dollar amounts.
Bookkeeping: If you're both managing the finances, then in order to avoid bookkeeping snafus you should always let your spouse know what you're doing, whether it concerns paying bills or applying for a credit card. No matter who does the accounting, you should also consult with each other regularly about your income-to-debt ratio.
Setting financial goals: Whether you're saving for a car or budgeting for your retirement, you both need to set the same priorities. Likewise, when it comes to wealth-building strategies such as investing, you should make your decisions jointly.
Talking to Your Kids About Money
It's never too early to start talking to your kids about the importance of living according to your means. Here are some pointers to help you incorporate money discussions into your parent/child relationship:
Practice what you preach. As a parent, your teachings will only be effective if you're living up to them. This means being financially responsible in every facet of your life, so that your kids can see the benefits of disciplined spending habits and responsible financial management.
Keep the conversation age-appropriate. Use examples that your kids can relate to according to their ages. Also, make sure to talk to boys and girls in exactly the same way, because there's nothing gender-specific about money management.
Make money management an everyday thing. Whether you're shopping at the grocery store or taking the kids out for a day of recreation, try to find ways to teach them about the value of a dollar, how credit cards work and the importance of budgeting.
Demonstrate the benefits of saving. Today's kids are overwhelmed not only by peer pressure, but also by commercials encouraging them to overspend. To counterbalance this, create situations where you can demonstrate how, by budgeting and saving money, the whole family is able to enjoy a game of miniature golf or an evening at the movies. In the end, real-life examples will trump peer pressure every time.
Whether the issue is debt, spending habits or financial management, the experts agree: Being open and honest about money matters is one of the keys — and a crucial one — to a successful family life. By discussing finances on a regular basis, you and your family will have a better understanding of how to work together to achieve your financial goals — and, in the end, reap the rewards.