Escape The Cold: Redeem Your Alaska Airlines Miles
Posted March 11, 2014
in Credit Card Tips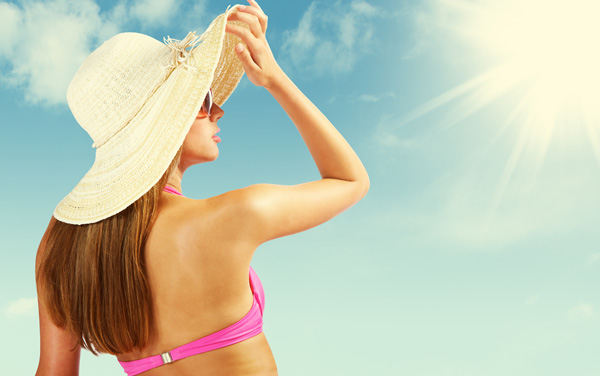 It's the beginning of March and Spring is just around the corner, right? Maybe, but this miserable winter is one of the coldest and snowiest in decades. Winnipeg is experiencing the second coldest winter in 75 years, while Windsor is seeing their coldest winter in 35 years, and Environment Canada is predicting the cold is here to stay for quite some time.
With winter looming outside, it seems getting away is the only refuge. But what if a tropical destination, or quick getaway vacation, is not in the budget?
Think Rewards
Credit card rewards can be a great way to get away on a budget. There are a number of travel reward credit cards available in Canada, all offering reward miles. Unfortunately, redeeming them can sometimes be a hassle. Many reward programs have blackout dates, limited flight options or no companion fares.
Alaska Airlines Cardholders know all about great travel rewards. As one of the top travel rewards cards in Canada, the Alaska Airlines MasterCard® offers 1 mile per $1 spent on every eligible purchase, plus an annual Companion Fare, which can add up to a great deal of discounted travel.
Earning Alaska Airlines Miles
As an Alaska Airlines Mastercard cardholder, you are automatically enrolled in the Alaska Airlines Mileage Plan™ where you earn miles just for flying on Alaska Airlines or any of their partners. In addition to earning miles with each eligible purchase, you also earn one mileage plan mile for every mile you fly on a purchased ticket, with the opportunity to earn double miles during certain promotions. Also, if you purchase a ticket with your Alaska Airlines Mastercard, you not only earn miles for your time in the air, but also a mile per dollar spent on the ticket.
Need to rent a car or book a hotel? Most of the time you can earn double, triple or even quadruple the miles by booking with their partners through Mileage Plan Deals. You can also earn bonus miles for the following flight-related activities: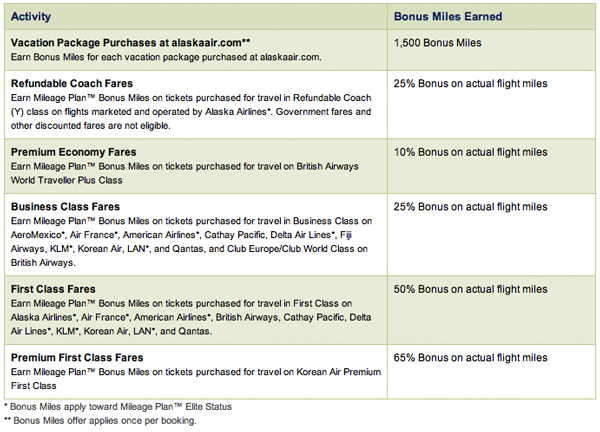 Once you rack up all those miles, it's time to start using them. Fortunately, your miles do not expire as long as your account remains active, but it's a never a bad idea to use them ~ especially to get away from this never-ending winter!
Redeeming Alaska Airlines Miles
Redeeming your miles with Alaska is quite easy. You can view the plethra of award options on their website, as well as book them right online. When shopping for your Alaska Airlines award reservation, keep in mind there are different award types.
Refundable Coach Award:
 These awards offer the most flexibility for travel in the main cabin. There are available on every flight, every day and apply to every last seat on the airplane. Plus, if you change or cancel, no fees apply.
Coach Award:
 This level is similar to the previous award, but this level is limited and may not be available on every flight. Change and cancellation fees will apply to these awards.
Refundable First Award: 
These awards offer a premium First Class experience. They are available on every flight, every day, down to the very last First Class seat on the airplane. Enjoy complimentary food and premium beverages, 2 free checked bags, express check-in, security, and boarding lines, Board Room access, and most importantly, a big comfortable seat for your trip. Plus, no change or cancellation fees apply to these awards.
First Award: 
These offer the same amenities as the Refundable First Awards, but at a lower price. Seats are limited and may not be available on every flight. Change and cancellation fees apply to these awards.
Money & Miles Award: Use these awards to receive up to a 50% discount on most coach or First Class fares. Some restrictions apply, such as the maximum discount is $100 (USD) off of the base fare for 10,000 miles, or $200 (USD) off of the base fare for 20,000 miles. Don't worry, you'll still earn 100% of the miles flown when traveling on this award, but they can only be booked online.
What if Alaska doesn't fly to your desired destination? Their flexible reward program allows you to redeem your miles through Partner Awards. You can book your award flight using any of the following airlines within their partner network:
American Airlines
Aeromexico
Air France
British Airways
Delta Air Lines
Emirates
Era Alaska
Fiji Airways
KLM
Korean Air
PenAir
Qantas
These flexible awards will also allow you to use one airline partner in one direction, and another partner coming back. And most of these partners allow one-way bookings. So, if you plan to do some jumping around when abroad, it won't be a hassle with these travel rewards. Keep in mind though, award availability through the partner network is limited, so you'll want to plan ahead, especially during busy travel periods.
Have you grown accustomed to traveling in style or want to make your getaway even more memorable?
Your Alaska Airline Miles can also give you access to that coveted First Class. You can upgrade in advance when booking online, at check-in or the departure gate. Experience the comfort of First Class one way for 15,000 miles or pay a certain amount upfront, depending on the length of your flight. If your trip is within 0-1250 miles, a paid First Class Upgrade is only $50 (USD). You may want to check online to make sure your flight is eligible, as some fares may not be eligible for upgrades.
The Mileage Plan that comes with the Alaska Airlines Mastercard offers one of the most flexible reward programs. Not only do they offer flexible award options, First Class upgrades, and fares through their Partner Network, but they also let you donate miles to various charities, purchase additional miles or transfer miles to other Alaska Air Mile members.
The flexible rewards program, easy to earn miles and customer service department make this travel rewards credit card a beneficial tool for anyone looking to getaway.