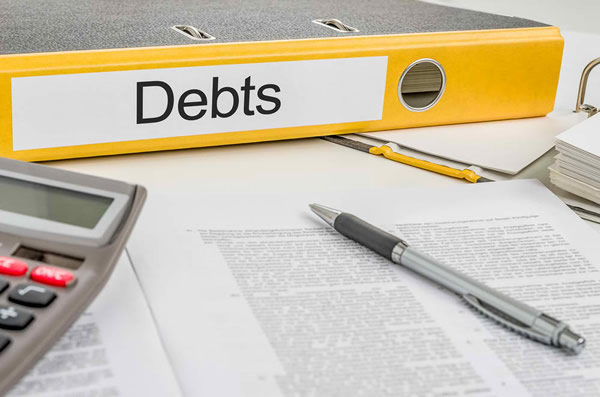 With record-low borrowing costs, a lot of Canadians are indulging in consumer debt. Canadian consumers owed a whopping $1.44 trillion in debt in the second quarter of 2014, up from $1.42 trillion in the first quarter, according to credit monitoring agency Equifax Canada.
While Canadians are taking on more debt, there's a silver lining – the delinquency rate, which tracks bills 90 days or more overdue, was at 1.11 per cent in the second quarter – that's the lowest we've seen in six years since the financial crisis in 2008. Meanwhile, consumer bankruptcies were down 5 per cent. (The Equifax report is available here.)
How Much Debt Does the Average Canadian Have?
The report found the average debt held by Canadians, excluding mortgages, is $20,759. That includes all types of debt, such as credit card, secured and unsecured lines of credit, and payday loans.
Equifax said that the "consistent low-interest environment has been a main driver for the continued increase in consumer credit indebtedness over the past few years."
Nevertheless, most Canadians are still managing their debt effectively. "For the most part, Canadians are working within their means to manage their debt effectively," senior director of decision insights at Equifax Canada Regina Malina said.
What province is leading the charge when it comes to consumer debt? "When stacking the regions up against each other, it's clear that Alberta remains the biggest driver of new credit. Demand for new credit has increase in the West for the five consecutive quarters."
Installment Loans and Mortgage Debt Outpacing Credit Card Debt
Although it's worrisome when we see consumer debt on the rise, when we drill down the numbers we see a different picture.
Installment loans like mortgage and student loans were up 10.8 per cent in the second quarter, while mortgages increased 9.2 per cent. With home prices skyrocketing in major cities like Calgary, Toronto, and Vancouver, Canadians are being forced to take on larger mortgages to finance the purchase of their dream home. How did credit card debt fare? A lot better – credit card debt only rose 4.4 per cent.
"Demand for new credit is up, but has slowed significantly versus the first quarter when we saw a spike in credit card activity," Ms. Malina said.
"Credit card balances of new cardholders continue to increase, while credit limits and new card issuance have slowed. This may be an indication that promotional activity of credit card issuers is slowing down."
The Bank of Canada Weighs In On Household Debt
The Bank of Canada has previously expressed concern about household debt during its interest rate announcement. It's worried consumers could find themselves in financial straits when mortgage rates eventually rise. However, Canada's central bank was mum on the topic of household debt in its latest announcement earlier this month.
The Bank of Canada finds itself handcuffed – it can't curtail consumer debt without hiking the overnight lending rate, the driving factor for prime rate at lenders. If the Bank of Canada does it too soon, we could find ourselves in another recession. However, with the overnight lending rate frozen at one per cent for over four years, Canadian households could be a bit too cozy with the low interest rate environment.
Household Debt-to-Income Ratio Edges Up
After two straight quarters of decline, Canada's household debt-to-income ratio is once again up. The closely watched ratio edged up to 163.6 per cent in the second quarter, up from 163.1 per cent in the first quarter, according to Statistics Canada. However, this is as expected, as households typically pay off their holiday spending in the first quarter and purchase homes in the second.
The Bottom Line
Despite record-low interest rates, it's important not to take on too much debt. Credit card interest rates, which aren't driven by the overnight lending rate, still remain at 18.99 per cent or higher on most credit cards. You should continue to use your credit card responsibly and only purchase what you can afford to pay off in full at the end of your grace period. It's important to remember that mortgages rates of five or six per cent are the norm – you should be ready when interest rates eventually rise.