3 Ways to Make the Most of Your Credit Card for Back to School Spending
Posted August 31, 2017
in Credit Card Tips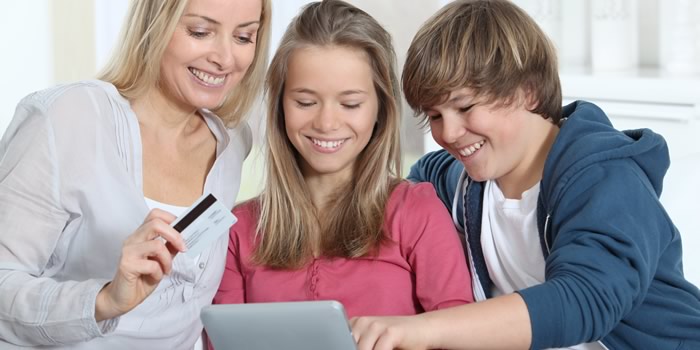 Can you believe school is back in session? It seems like summer flew by in the blink of an eye!
Back to school isn't getting any cheaper for parents. In fact, quite the opposite. Here's a fact that may surprise you: Canadian families spend on average more on back to school than during the holidays. This is backed by a recent survey by online deals website RetailMeNot.ca. Canadians families expect to spend $883 on back to school supplies in 2017, more than $325 more than during the holidays last year.
How are parents paying for this back to school spending? Many are having a tough time. The survey found that over half the parents "put a strain" on the family's finances. Furthermore, 40 percent of parents say it will take them months to clear their credit card balance.
Why is back to school spending so much more expensive these days? Technology is mainly to blame. Laptops and smartphones are costing parents a pretty penny. Families are spending an average of $580 on laptops and $250 on smartphones, the survey finds. That's on top of an average spend of $300 on clothing and shoes and $100 on school supplies.
How do you make the most of your credit card on back to school spending while avoiding the pitfalls? Here are three ways.
Reap the Rewards
Since most families will spend more on back to school than during the holidays, you can rack up some serious credit card rewards. Just remember to come with a shopping list in hand. Before you head to the store, take an inventory of what your child already has and create a budget based on that. That way you can avoid overspending and carrying a balance on your credit card. Remember, there's not a credit card in the world where it's worth carrying a balance at 19 percent interest when you're only earning two or three percent rewards.
Extended Warranty Benefits
Credit cards aren't just a good way to earn rewards. Many people forget that they offer consumer protection as well. When you're buying big tickets items, such as a new laptop or smartphone for back to school, an extended warrantee certainly comes in handy. Keep in mind that extended warranties vary by credit card; if you use your credit card to buy an item with a warranty, your credit card may lengthen the warranty. It's quite common for credit cards to add an extra 12 months on the manufacturer's warranty if anything were to happen, but read the fine print of your cardholder agreement to find out.
Price Protection
An even lesser known credit card perk than extended warranties is price protection. Price protection is a perk offered on some credit cards where you'll be refunded some or all of the money if an item you purchased goes on sale within 60 days of your purchase. Imagine you purchase a brand-new laptop for $700 only to find out it went on sale for $500 the very next week. Bummer! Price protection could have you covered, depending on your credit card, so read the fine print. It's also worth speaking to retailers because sometimes the stores have policies and will refund you the difference no questions asked.
The Bottom Line
As our motto goes, a credit card is a powerful financial tool, when used responsibly. By planning by creating a list and using your credit card to track your spending, it can be an asset, rather than a detriment. Wouldn't you rather start the school year in good financial shape than in debt? By using your credit card in a smart way you can do just that.