The Bank of Canada Holds Interest Rates at 1 Per Cent Yet Again
Posted July 22, 2014
in Economy, News
If you have a variable rate mortgage, you can relax. The Bank of Canada has decided to yet again to hold the overnight lending rate at 1 per cent. It has been nearly four years since the key interest has been frozen at 1 per cent. This marks the longest stretch in Canadian history interest rates have remained the same.
It's easy for borrowers to gain a false sense of security with ultra-low interest rates here for so long, but who can blame them? With the Canadian economy failing to meet growth expectations, Canada's central bank has softened its tone, suggesting it could be quite a while until we see a rate hike.
If you're the average Canadian, you're probably wondering why the overnight lending rate matters to you. As you'll soon find out, the overnight lending rate has a far-reaching effect that can even affect credit card borrowers.
Who's to Blame for Low Interest Rates?
It's been over six years since the financial crisis of 2008, yet interest rates remain at records lows – what's going on? If the Bank of Canada raised the overnight lending rate before the economy could handle it, the result could lead to growing pains and push us into another recession. Consumer spending is the main driver of economic growth – if consumers stop spending due to higher rates, it will lead to employer layoffs, which will hurt consumer spending further.
Simply put, the Canadian economy isn't growing as quickly as the Bank of Canada had hoped. Unfortunately, anemic sub-three-per-cent growth looks to be the new norm. In fact, the Canadian economy can't even meet the lowly growth predictions from Canada's central bank. The Bank of Canada revised down its GDP growth projections to 2.2 per cent for this year and 2.4 per cent for 2015.
"We are still a long way from home," Bank of Canada chief Stephen Poloz said. "Our economy has room to grow. And, when we do get home, there is a growing consensus that interest rates will still be lower than we were accustomed to in the past."
When could an interest rate hike be in the cards? If everything remains unchanged, it's not likely to happen anytime soon. The Bank of Canada has pushed a hike in interest rates back until at least mid-2016.
"Consequently, the economy is expected to reach full capacity around mid-2016, a little later than anticipated in April," the bank said.
What is the Overnight Lending Rate?
The overnight lending rate is often referred to by the Bank of Canada as the key interest rate or key policy rate. This rate is important because it's the rate the Bank of Canada uses to carry out monetary policy. The overnight lending rate is the rate financial institutions use to borrow and lend one-day funds between each other.
The Bank of Canada has a set schedule of eight announcements of interest rates per calendar year. The overnight lending rate is influenced by several factors including economic growth, inflation, exports, consumer debt, and more.
Why Interest Rates Matter
A change in the overnight lending rate would have a trickle-down effect felt throughout the Canadian economy. Although financial institutions set their own prime rate, it's based on the overnight lending rate, plus a spread. For example, prime rate at most financial institutions today is 3 per cent (the overnight lending rate plus a 2 per cent spread).
If prime rate were to increase, the cost of borrowing for debt tied to prime rate would also increase. Debt tied to prime rate includes variable rate mortgages, lines of credit, personal loans, car loans, RRSP loans, floating rate student loans, and some credit cards.
History of the Prime Rate
Although home prices are skyrocketing in many cities across Canada, homebuyers are benefiting from historically low mortgage rates. Despite a weak job market and slow growth, the housing market is being fueled by rock bottom interest rates too tempting for many homebuyers to resist.
While prime rate is near its lowest level ever, it hasn't always been this low. It's important to put prime rate into perspective. Prime rate has averaged 7.66 per cent between 1960 and 2014. Prime rate reached an all-time low of 2.25 per cent in April 2009, while it reached a peak of 22.75 per cent in August 1981.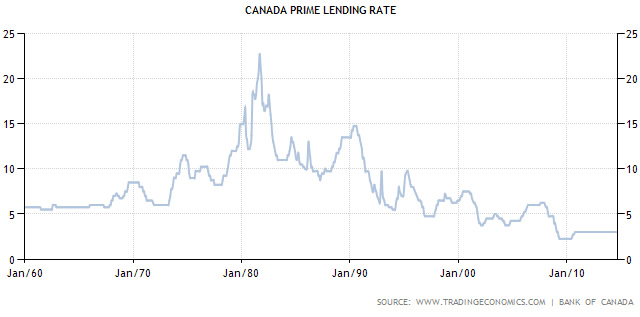 While we aren't likely to see interest rates as high as 22.75 per cent ever again, prime rate currently sits just above its historic low at 3 per cent. As a borrower it's important to plan for higher interest rates. Instead of paying the monthly minimum on your mortgage or line of credit, up your payments as if it's at a higher rate, such as 5 per cent. That way your finances won't be in for such a shock if interest rates do eventually rise.
The Bottom Line
If you're like most Canadians with household debt tied to prime rate, it's important to watch the overnight lending rate like a hawk. The good news is it looks like low interest rates are here to stay until at least mid-2016.
If and when the Canadian economy returns to normal we could be in for our first hike in prime rate in many years. As a borrower it's important to stress-test your finances and be prepared for a hike. By upping your monthly debt payments as if prime rate were 5 per cent, you'll be prepared when higher rates finally do arrive.
For more information, feel free to watch the 37 minute press conference by Governor Stephen S. Poloz and Senior Deputy Governor Carolyn Wilkins.