Why You Should Read Your Cardholder Agreement
Posted May 1, 2018
in Credit Card Tips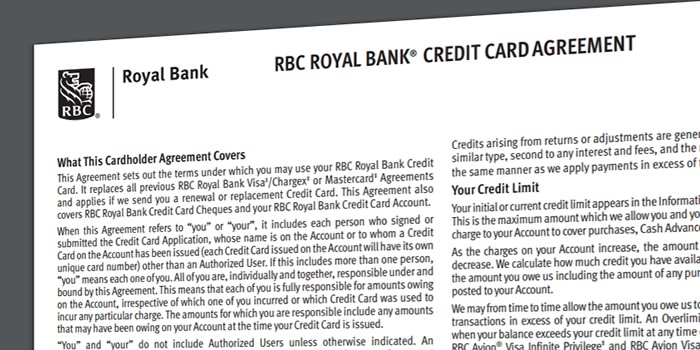 If you're like most Canadians these days, you'll choose your credit card mainly based on the perks offered. It's easy to fall in love with credit cards with big sign-up bonuses, reward points, and cash back multipliers. You may know all the benefits the card offers, but you probably don't know everything about the credit card's terms and conditions. While you might have skipped the information boxes when you applied, you'll receive a cardholder agreement upon approval.
If you're guilty of tossing your cardholder agreement in the trash without reading it, you're not alone. Similar to the terms of service when you sign up for a service online, barely anyone reads their cardholder agreement. This is a big mistake. A lot of helpful information is found into the cardholder agreement.
Reading your cardholder agreement used to be a real chore. Thankfully it's a lot easier to understand these days thanks to the use of clear language in financial documents (federally regulated financial institutions are required to use simple terms everyday Canadians can understand).
Here are some of the helpful things found in your cardholder agreement you should know about.
Annual Interest Rates
If you don't ever carry a balance on your credit card or take out a cash advance, then these rates really don't matter to do. That being said, life has a way of throwing us curveballs. You could get sick or lose your job. Without an adequate emergency fund, you may be forced to rely on your credit card. Wouldn't you rather know these rates ahead of time rather than being blindsided by them? Rates displayed in this section include standard interest rates, promotional rates, purchases and cash advances.
Interest-Free Grace Period
Most credit cards come with a 21 day interest-free grace period. During this period you can carry a balance on your credit card without incurring interest. The number of days may differ on your credit card, which is why the cardholder agreement is so important to read.
Minimum Payment
This is the minimum amount you're required to pay off on your credit card to keep it in good standing. Typically it's the greater of 2% of your credit card balance or $10. Again, this may differ, so read your cardholder agreement. The last thing you want to do is negatively impact your credit score, especially if you're just about to borrow money for a major purchase. Lowering your credit score could mean paying a higher mortgage rate.
Foreign Currency Conversion
Do a lot of travelling to foreign destinations for work or pleasure? Make a lot of purchases in foreign currencies? Then you'll want to choose a card with a low foreign currency conversion. The standard is 2%, although there are credit cards with lower fees than others.
Annual Fees
This section has the amount of the annual fee and when it's charged to you (i.e. on your statement anniversary). Getting a card for your spouse? You might be surprised to learn supplemental cards are free, or carry a hefty annual fee, This can be a crucial factor in determining whether the card is good for you.
The Bottom Line
So, there you have it, five important things found in your cardholder agreement. Just remember that all credit cards aren't created equal. Although you may assume a certain bank's credit card has the same annual fee as a similar credit card, you won't know for sure until you fully review the cardholder agreement.