Uber to Launch its Own Credit Card
Posted December 5, 2017
- updated January 6, 2018
in News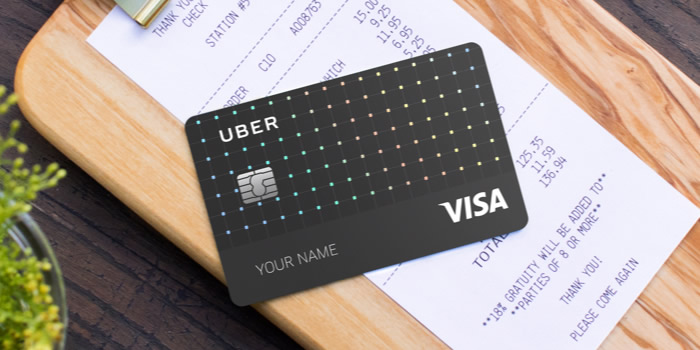 If you live in a major Canadian city, you should be pretty familiar with Uber. The ride-sharing company has grown exponentially in popularity over the past few years in Canada. Well now that Uber has conquered car-sharing, it has its sights set on a new market: credit cards.
Uber announced that it's launching its very own no-fee, co-branded credit card with a well-established banking partner, none other than British bank Barclays. The car-sharing giant hopes to makes it way from your phone to your wallet. The credit card is only being launched in the U.S. at this time, but if it's a major success like many expect, I wouldn't be surprised to see a similar card launched in Canada in the not-too-distant future (although the rewards might not be as generous).
Details on the New Uber Visa Card
The Uber Visa Card offers cardholders cashback in exchange for their everyday spending. To encourage you to use Uber more often, you'll earn two percent cashback on every dollar you spend on the ride sharing app as well as online shopping. That's not all. You'll earn a sizable four percent cashback when you dine out or use Uber's on-demand food delivery service UberEATS. You'll also earn two percent cashback on airlines, hotels and home sharing services like Airbnb, two percent cashback on online purchases and subscription services and one percent on all your other purchases.
To further reward cardholders for regular spending, you'll receive a $50 yearly bonus for using your Uber Visa Card to pay for online subscription services, such as Netlfix, Hulu and Amazon Prime, when you spend at least $5,000 on your card in a year.
If you're anything like us, you've dropped your smartphone many times and you've maybe left it at the local pub. To help protect cardholders, the card offer further protection for your smartphone. When you use your Uber Visa to pay your monthly mobile bill, your phone is protected up to $600 if it's stolen or damaged. Not bad. For those frequently flyers, the card has no foreign exchange fee and no annual fee.
Signing Up is Super Easy
When you've accumulated enough points, redeeming is a breeze. You can redeem your points on a straightforward penny-per-point redemption rate or if you'd prefer hard, cold cash, you can have the points converted and the funds conveniently deposited in your bank account. There's also a possible partnership with airlines on the horizon.
Applying for the Uber Visa Card is super simple. You can apply directly from the Uber app. A lot of your personal information is already prepopulated from the app. In fact, it's so quick and easy to apply, that Uber is aiming for you to apply, be approved, load the card and pay for the ride, all while driving to your destination in your Uber vehicle.
Why is Uber Launching its Own Credit Card?
Uber, like many other companies is launching its own credit card for two main reasons: for customer loyalty and to save on interchange fees. By encouraging customers to use their Uber Visa Card, customers are more likely to use Uber's other services, especially since higher cashback is offered for them. Uber can also save a ton on interchange fees, since it's likely negotiated lower interchange fees with its co-branded credit card. It's win-win for Uber and Uber customers.
The Bottom Line
For millennials, the Uber Visa Card is very attractive. It offers higher reward accrual on everything millennials love, including ride-sharing, Airbnb and Netflix. Hopefully the credit card will be launched in Canada sooner rather than later, so Canadian millennials can take advantage of it, too.