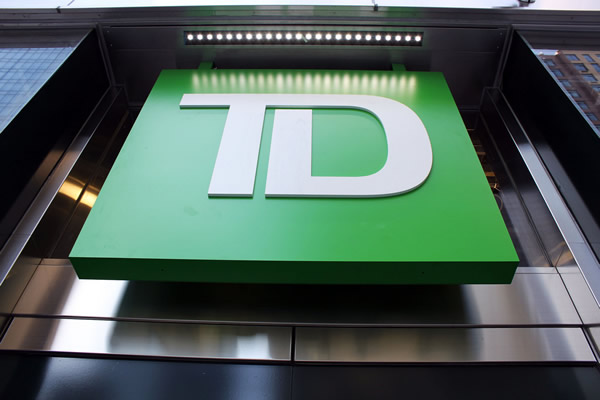 The deal that shook up the credit card world appears to be paying immediate dividends for TD Bank. New credit cardholders have been signing up in droves for TD Bank's Aeroplan Visa card. The deal added to the big bank's bottom line by boosting TD Bank's first quarter profits to $2 billion.
The blockbuster deal helped TD unseat CIBC as Canada's number one credit card issuer in the hotly contested credit card market. For months Aeroplan credit cardholders were left in the dark – it wasn't until the week before the deal was set to expire on January 1, 2014, that a deal was finalized between CIBC and TD Bank. The deal so far has been a boon for TD and Aeroplan cardholders alike.
TD-Aeroplan Deal Exceeds Expectations
The deal between Aimia, parent company of Aeroplan, and TD Bank, Canada's second-largest bank by market capitalization, has boosted the profile of the already-popular travel rewards program. TD has experienced tremendous growth since it took over the reins at the beginning of this year.
The big bank has far exceeded expectations, signing up an impressive 275,000 new cardholders in only the first three months. To put it in perspective, in a typical year 50,000 to 80,000 new cardholders are signed up – TD has over tripled those figures in only the first quarter of 2014.
Those new customers are in addition to the almost 550,000 cardholders that were transferred over as part of the deal between CIBC and TD. Under the deal, cardholders who only had a credit card with CIBC were transitioned to TD, while those with other financial products remained with CIBC. Coupled with new cardholders signed up by American Express, the total number of co-branded Aeroplan card cards has risen to 1.4 million.
First quarter results from TD Bank only gave us a glimpse of the success of the Aeroplan deal. With TD scheduled to issue its second quarter earnings release on Thursday, May 22, 2014, it will be interesting to see the results.
Interchange Fees Add to TD's Bottom Line
Every time you make a purchase – tap or swipe your plastic – 1 to 2 per cent of the purchase price goes to your credit card issuer. With cardholders signing up in record numbers, TD is looking to cash in on the lucrative interchange fees.
If the new TD Aeroplan cardholders spend at the same level as current cardholders, it would mean a significant boost to the bottom line of TD Bank and Aimia, according to Rupert Duchesne, CEO of Aimia. Although we don't have a crystal ball – it could take between six and nine months before we know the results – initial results show spending levels seem to be staying the course.
How Cardholders Could Come Out Ahead
With four Aeroplan Visa credit cards to choose from, customers have more choices than ever at their disposal. Cardholders can choose the credit card that best matches their spending habits to maximize their travel rewards.
The lucrative deal isn't just paying dividends for the big banks, it's paying dividends for cardholders, too. Aeroplan is receiving 15 per cent more for each mile purchased. The surplus is being used to reduce the number of miles needed to purchase flights. The changes help make Aeroplan more competitive with rival travel rewards programs like RBC Avion.
These changes come on the heels of further changes introduced earlier this year to improve the Aeroplan program. Aeroplan recently launched Distinction, a new member recognition program, designed to reward its top accumulating members. Aeroplan cardholders also have access to New Market Fare Flight Rewards, which offers better value, with all members having access to mileage rates up to 20% lower, with Distinction members receiving up to a 50% reduction.
Aeorplan also cancelled its unpopular policy where Aeroplan Miles could expire after seven years if unredeemed. Under the new rules, miles will no longer expire as long as you remain active in the program with at least one redemption or point accumulation every 12 months.
This seems to be only the tip of the iceberg for the positive changes in store for TD Aeroplan cardholders. It will be interesting to see what the remainder of 2014 has in store for cardholders.
(Photo: via Flickr CC BY-SA 2.0)