Chase Canada Axing Popular No Foreign Exchange Fee Credit Cards
Posted March 13, 2018
in News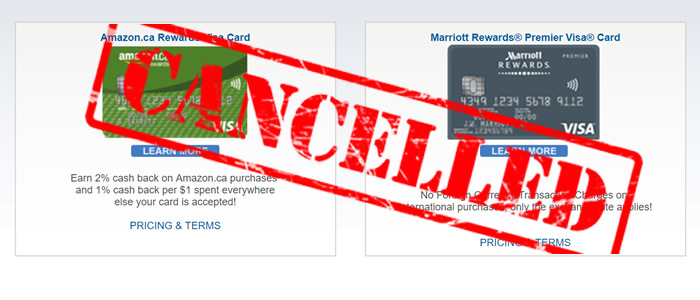 If you're looking for a credit card with no foreign exchange fees, it's pretty slim pickings. As you've probably heard by now, Chase Canada announced that it's axing the Amazon.ca Rewards Visa and Marriott Rewards Premier Visa – with customer accounts closing March 15th. Both credit cards offered a feature that's hard to come by – no foreign exchange fees.
Chase Canada informed Amazon.ca Visa cardholders by mail, saying that, "The credit card relationship between JPMorgan Chase Bank, N.A. in Canada and Amazon.ca is ending." If you're a cardholder of the Marriott Visa, you should have received a similar letter.
Chase Canada getting rid of both credit cards shouldn't come as a total shocker. The writing was on the wall months ago when it stopped accepting applications for both credit cards.
What happens to your credit card account
If you have an Amazon.ca Visa or Marriott Visa credit card, as of March 15th you'll no longer be able to use them to make new purchases. Likewise, you won't be able to enroll for a new account online.
Once your credit card account is closed, the annual interest date on your card will stay the same. Chase Canada would like you to destroy any credit cards or cheques you may have related to this account.
If you have any cash back points that you haven't redeemed, don't worry, you won't lose them. You'll receive a statement credit from Chase Canada to your account for the cashback amount.
Up to March 15th it will be business as usual for cardholders. You'll still be able to earn rewards on purchases made before this date.
What do you do if you have an outstanding bill after March 15th
If you have an outstanding bill after the credit card closure date on March 15th, there's no need to panic. You'll keep receiving your monthly statements until your outstanding balance is paid in full. On March 15th you have the choice of paying your outstanding balance in full, or continuing to make at least your minimum payment until your credit card balance is fully repaid. You can make payment by online banking, telephone banking, teller or ATM. In other words, Chase will continue to service your account until the balance is zero at which point the account will be closed.
Finding a replacement credit card with no foreign exchange fees
If you're an Amazon.ca Visa or Marriott Visa cardholder, after the announcement chances are you're looking for a new credit card. One of the key features of both cards was the fact that they offered no foreign exchange fees, a rarity in the Canadian credit card space.
If you do a lot of international travel, foreign exchange fees can add up quickly. Every time you swipe your credit card, you'll fork over about 2.5% in fees in addition to the exchange rate for buying in a currency besides the Canadian dollar. (I don't know about you, but I'd rather keep more of my hard-earned money in my pockets than handing it over in foreign exchange fees.)
If you're looking for a credit card to replace these with no foreign exchange fees, there's pretty slim pickings. The only credit card left is the Home Trust Preferred Visa.
Finding a replacement card for Marriott Rewards
If you're looking to replace your Marriott Rewards credit card, then the only current option is to get the SPG Credit Card From American Express. Marriott recently acquired Starwood Hotels & Resorts, creating the world's largest and best hotel company. You can transfer your points between SPG and Marriot Rewards accounts. For a limited time, existing Marriott Rewards cardholders can earn an extra 5,000 SPG Starpoints over the standard 20,000 point sign-up bonus.
SPG Credit Card - Marriott Rewards Offer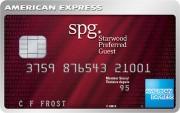 Apply Now
on the American Express secure website
This offer is only available to new Starwood Preferred Guest Credit Card from American Express Cardmembers (new "SPG Amex Cardmembers") who are also basic Marriott Rewards co-brand credit card customers ("Marriott Co-Brand Customers")*

Offer valid for applications received by American Express by April 18, 2018 online through the link provided within this webpage.

With the Starwood Preferred Guest® Credit Card from American Express, you can earn 25,000 Welcome Bonus Starpoints®. All you have to do is charge $1,500 in purchases to your Credit Card in the first 3 months of Cardmembership*
Balance Transfer:
Enjoy an interest rate of 8.99% for the first year on balance transfers.
The Bottom Line
While it's not a surprise to see Chase Canada axe these two credit cards, it's still a sad day for cardholders. Although some credit cards offer lower foreign exchange fees, finding one with no foreign exchange fees is becoming increasingly challenging – akin to finding a needle in a haystack.
We can only hope that a credit card issuer will step up to the plate and offer a new credit card with no foreign exchange fees to help fill the void.