It's your lucky day. While walking down the street, you find a lonely bill, solemnly laying on the sidewalk, just waiting for a delightful new owner. You rescue the bill from the dangerous sidewalk, pick it up and cheerfully place it in your pocket. This unexpected gift from the money gods will definitely make up for the horrible day you've been having! But, then what? Do you spend your new found friend or save it for a rainy day? A recent poll by Scotiabank found that what we do next, all depends on the amount.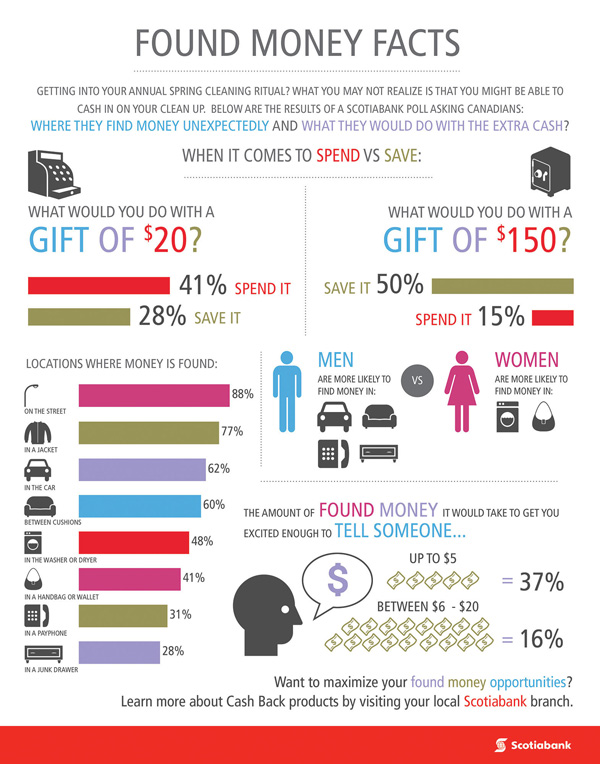 A recent Scotiabank survey found if respondents were to find $150, most would save it for something particular or use it to pay down debt. If the amount changed to $20, more were likely to spend the found money, rather than save it for the future.
Interestingly, responses also changed when the found money was stated in terms of cash back rewards.
Cash Back Rewards: Save or Spend?
When specifically asked about cash back rewards, 46% of Canadians surveyed said they would save the money (if the amount increased to $500). The others respondents stated they would use the rewards to pay down debt. Surprisingly, only a small portion (8%) of Canadians would spend the cash right away.
Fortunately, you don't need a lucky charm or creepy rabbit's foot to find extra money in your wallet. Mike Henry, Senior Vice President, Retail Deposits and Payments at Scotiabank says, "Anyone can take the luck out of finding money by choosing banking products that reward you with cash back for everyday spending."
Take The Luck Out
Instead of scouring the streets for forgotten bills or digging through your couch cushions looking for loose change, just use a cash back rewards card for your everyday purchases.
Using a rewards card, like the Scotia Momentum® VISA* Infinite Card, for everyday expenditures can definitely help you find some extra bills in your wallet each year. This cash back rewards card earns you 4% back on gasoline or grocery store purchases, in addition to 2% on drug store purchases. And, since the average canadian spends $5,693 a year alone on food purchases from stores, that could definitely be an amount worth sharing!
Finding money in your pants pocket, or stuffed way down in the bottom of your handbag, definitely turns any day into an exciting one. Why not feel that excitement every year by taking advantage of a cash back credit card & discover a pile of loonies waiting for you to either spend or save.