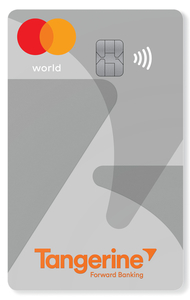 Tangerine World Mastercard®
Secure application on the Tangerine MasterCard website
Card Features

Notice: Undefined index: bullet_points_0_bullet_class in /var/www/vhosts/www.creditcardscanada.ca/htdocs/wp-content/themes/ccc/single-card.php on line 57

Promotional rate: Earn 4% Money-Back Rewards in up to 3 Categories for 3 Months* with the new Tangerine World Mastercard. (new clients only)

Notice: Undefined index: bullet_points_1_bullet_class in /var/www/vhosts/www.creditcardscanada.ca/htdocs/wp-content/themes/ccc/single-card.php on line 57

Personalized categories and unlimited money-back rewards monthly

Notice: Undefined index: bullet_points_2_bullet_class in /var/www/vhosts/www.creditcardscanada.ca/htdocs/wp-content/themes/ccc/single-card.php on line 57

Automatic earning: Money-Back Rewards are earned automatically on everyday purchases and paid monthly. These can be applied to your Credit Card balance or redeemed into your Savings Account.

Notice: Undefined index: bullet_points_3_bullet_class in /var/www/vhosts/www.creditcardscanada.ca/htdocs/wp-content/themes/ccc/single-card.php on line 57

No annual fee

Notice: Undefined index: bullet_points_4_bullet_class in /var/www/vhosts/www.creditcardscanada.ca/htdocs/wp-content/themes/ccc/single-card.php on line 57

After promotional period, 2% cashback on your choice of up to 3 categories, 0.5% money back on all other purchases

Notice: Undefined index: bullet_points_5_bullet_class in /var/www/vhosts/www.creditcardscanada.ca/htdocs/wp-content/themes/ccc/single-card.php on line 57

Change your 2% Money-back categories to suit your spending from your choice of 10 categories

Notice: Undefined index: bullet_points_6_bullet_class in /var/www/vhosts/www.creditcardscanada.ca/htdocs/wp-content/themes/ccc/single-card.php on line 57

1.95% on Balance Transfers for six months
Zero Liability: As a Mastercard user, you don't have to worry when using the credit card and you're not responsible for unauthorized purchases made with your card
Extended Warranty: Doubles the original manufacturer's warranty for up to one year when you pay with your eligible Mastercard
Purchase Protection: Provides coverage for most items you purchase with your eligible Mastercard if the item is damaged or stolen within 90 days of the date of purchase
Priceless Cities: Mastercard cardholders can enjoy special and unique offers on unforgettable experiences around the world with Priceless Cities
Exclusive Experiences and Offers: Cardholders get preferred access to an array or valuable offers, upgrades and experiences
Tangerine World Mastercard Benefits:
Rental Car Collision/Loss Damage Insurance**: Damage and theft protection for your car rental when you rent for up to 31 consecutive days and charge the full cost of your rental to your Card.
Mobile Device Insurance**: Protection on new cell phones, smartphones or tablets when you charge the full cost to your Card, or when you purchase it through a plan and charge all of your wireless bill payments to your Card. Covers up to $1,000 if your mobile device is lost, stolen, accidentally damaged or experiences mechanical failure.
Mastercard® Airport Experiences Provided by LoungeKey***: Make the most of your travel with Mastercard® Airport Experiences Provided by LoungeKey. Your complimentary membership gives you exclusive dining, retail and spa offers in over 400 airports worldwide, along with access to over 1000 lounges at $32 USD per visit. Learn more at airport.mastercard.com.
Interest Rates
Purchase APR: 19.95%
Balance Transfer APR: 19.95%
Cash Advance APR: 19.95%
Pros
Get World Mastercard benefits including Mobile Device Insurance.
Choose categories to maximize your reward earnings.
No annual fee.
Bonus Offer
Earn 4% Money-Back Rewards in up to 3 Categories for 3 Months*
Introductory Rates
1.95% on Balance Transfers for six months
Reward Earnings Rate
Up to 4% cash back on select purchases for 3 months
Additional Details
Fees