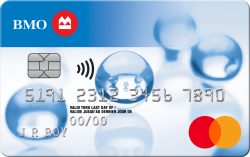 BMO Preferred Rate Mastercard®*
Secure application on the BMO Bank of Montreal website
Card Features
Welcome Offer: Get a 0.99% introductory interest rate on Balance Transfers for 9 months with a 2% transfer fee and we'll waive the $20 annual fee for the first year*
Enjoy our lowest interest rate of 12.99% on purchases*
Free extended warranty and purchase protection*
Zero Dollar Liability: protects you from unauthorized use of your credit card*
Worldwide acceptance at over 30 million locations*
BMO is not responsible for maintaining the content on this site. Please click on the Apply now link for the most up to date information
*Terms and conditions apply
1. BMO Preferred Rate Mastercard applications must be received between June 1, 2022 and December 6, 2022 to be eligible for the first-year annual fee waiver offer. The primary cardholder annual fee of $20 will be rebated in the first year and will appear as a fee and a credit on the primary cardholders first statement. After the first year, the annual fee will appear on your Credit Card statement twelve (12) months after the Credit Card open date. The first-year annual fee waiver offer is limited to new BMO Preferred Rate Mastercard accounts and will not be awarded to current or former cardholders who reinstate a closed account, product transfer, or who open a new account. This offer may be withdrawn or changed without notice.
2. a) Subject to these Terms and Conditions, each balance transfer amount is eligible for a promotional interest rate of 0.99% provided that each balance transfer is posted to your BMO Preferred Rate Mastercard account (the "Account") in the first 9 (nine) statement periods from the Account open date ("Promotional Period") , and your Account remains in good standing. Offer is available to new customers only upon Account approval for applications submitted on or after June 1, 2022. Balances from other BMO credit card accounts are not eligible to be transferred. The promotional rate will no longer apply to your Account if you transfer into a card other than the BMO Preferred Rate Mastercard. Balance transfers apply to Canadian dollar amounts only.
b) Balance transfers are treated as cash advances and the promotional interest rate applies from the date the transactions are posted to your Account until the last day of the Promotional Period. After the Promotional Period expires, any remaining balance transfer amounts will be charged interest at the standard annual interest rate for cash advances. The promotional interest rate of 0.99% does not apply to purchases, fees, cash advances and other charges posted to your Account during the Promotional Period. Standard interest rates will continue to apply to those transactions. Please refer to your monthly statement for the interest rate applicable to your Account.
c) Each balance transfer is subject to a fee of 2% which will be charged to your account on the date the balance transfer is posted to your Account. For example, if an amount of $1,000 is transferred to your Account, you will be charged a fee of $20. You may request a balance transfer for as low as $100, as long as the transfer amount plus the fee, does not exceed the unused portion of the credit limit on your Account.
d) If your Account has balances with different interest rates, such as purchases with a standard interest rate and balance transfers with a promotional interest rate, any payment that exceeds the minimum payment will be allocated proportionately to those balances according to the terms set out in section 14 of the BMO Mastercard Cardholder Agreement. For example, if you have an $800 purchases balance at the standard interest rate and a $200 balance transfer balance at a promotional interest rate, 80 per cent of your payment will be allocated to your purchases balance and 20 percent will be allocated to your balance transfer balance. This offer may be withdrawn or changed without notice.
e) You will pay interest on purchases unless you pay your full Account balance by the payment due date. For example, if you complete a balance transfer for $5,000 and spend $2,000 in purchases during the same statement period, you must pay the entire balance of $7,000 before the payment due date to avoid paying interest on your purchases. You will be charged interest if you only pay the amount owing for your purchases. There is no interest-free grace period for cash advances or balance transfers.
f) To transfer balances from non-BMO credit card accounts, register for Online Banking or log in at bmo.com and do the following; select your Mastercard account, then select Set up Balance Transfer or Pre-authorized payment, then select Credit Card Balance Transfer and follow the instructions to complete the transfer
Interest Rates
Purchase APR: 12.99%
Balance Transfer APR: 12.99%
Cash Advance APR: 15.99%
Pros
Low interest rates
Great balance transfer offer
Bonus Offer
Get a 0.99% introductory interest rate on Balance Transfers for 9 months with a 2% transfer fee and we'll waive the $20 annual fee for the first year*
Introductory Rates
Additional Details
Grace Period: 21 days
Fees