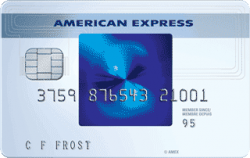 SimplyCashTM Credit Card from American Express
Secure application on the American Express website
Card Features
New SimplyCash™ Card from American Express Cardmembers can earn 2.5% cash back on purchases (up to $150 cash back) for the first 3 months of Cardmembership
Earn 1.25% cash back on purchases when your Welcome Rate ends
No limit to the amount of cash back you can earn after your Welcome Rate ends
Access to memorable experiences with American Express Invites®
Insurance coverage and 24/7 Customer Service
The preferred rate for purchases is 19.99% and funds advances is 21.99%. If you have Missed Payments, the applicable rates for your account will be 23.99% and/or 26.99%.
American Express is not responsible for maintaining or monitoring the accuracy of information on this website. For full details and current product information click the Apply now link. Conditions apply.
Interest Rates
Purchase APR: 19.99%
Balance Transfer APR: N/A
Cash Advance APR: 21.99%
Annual Fee
$0
Additional Cardholders: No annual fee
Pros
2.5% intro cash back bonus
No annual fee
Cons
Cash reward is paid yearly as statement credit
Bonus Offer
Get 2.5% cash back (up to $150 cash back) for 3 months*
Introductory Rates
Reward Earnings Rate
1.25%
Additional Details
Grace Period: 21 days
Fees
Foreign Transaction Fee: 2.5%
Late Fee: N/A
Over Credit Limit Fee: $29