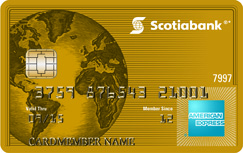 Scotiabank®* Gold American Express® Card
Secure application on the Scotiabank website
Card Features
Earn 15,000 bonus points with your first $1000 in everyday purchases in the first 3 months†
Earn 4x Scotia Rewards points for every $1 you spend at eligible gas stations, grocery stores, on dining and entertainment
Earn one point on all other eligible everyday purchases
Extraordinary travel benefits. Flexible Point Redemption. Comprehensive travel insurance
Use your points to purchase travel online or over the phone through our full-service travel agency. Or book your own travel using your card and go online to redeem points for the purchase.
Receive discounts and other special offers on hotels, airfare, car rentals, cruises and vacation packages.
Complimentary Concierge Services 24/7
Access to Priority Pass Lounges worldwide
Rates, fees and other information are effective as of February 1, 2018. Subject to change.
Interest Rates
Purchase APR: 19.99%
Balance Transfer APR: 22.99%
Cash Advance APR: 22.99%
Annual Fee
First year free then $99
Additional Cardholders: $29
Pros
Excellent bonus points offer
4x earnings for "everyday" purchases - gas, groceries, dining and entertainment
Cons
Annual fee could be expensive depending on your yearly spend
Bonus Offer
Earn 15,000 bonus points with your first $1000 in everyday purchases in the first 3 months. Plus, first year annual fee waived*
Reward Earnings Rate
Up to 4 Scotia Rewards points for every $1 spent
Additional Details
Grace Period: 21 Days
Minimum Credit Limit: $5,000
Fees
Balance Transfer Fee: 1.00%
Cash Advance Fee: $2.50
Foreign Transaction Fee: 2.5%
Over Credit Limit Fee: $29