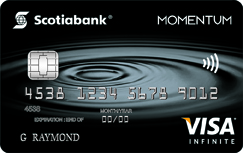 Scotia Momentum® VISA* Infinite Card
Secure application on the Scotiabank website
Card Features
Annual fee waiver for the first year. For accounts opened by July 31, 2017.
4% on eligible gas station and grocery store purchases
2% on eligible drug store purchases and recurring bill payments
1% cash back on all other eligible everyday purchases
Rates, fees and other information are effective as of May 1, 2017. Subject to change.
VISA Infinite Complimentary Concierge Service - available 24/7
Access to VISA Infinite Luxury Hotel Collection
VISA Infinite Dining Series - Unique dining experiences in some of Canada's top restaurants
Special access to unique offers and experiences
Rental car collision insurance
Purchase security and extended warranty protection
NOTE: A 1% Promotional Rate Fee (minimum fee of $3.50) on the amount of any cash advance, balance transfer and Scotia® Credit Card Cheque will apply during this promotional offer.
Interest Rates
APR: 19.99%
Balance Transfer APR: 22.99%
Cash Advance APR: 22.99%
Annual Fee
First year free, then $99
Additional Cardholders: $30
Pros
4% cash back on gas and groceries
2% cash back on recurring bill payments
Visa Infinite benefits
Cons
Excellent credit required to be approved
High income requirements
Bonus Offer
Annual fee waiver for the first year. For accounts opened by July 31, 2017.
Introductory Rates
Reward Earnings Rate
4% on gas and groceries; 2% on recurring purchases and drug stores; 1% everywhere else
Additional Details
Grace Period: 21 Days
Minimum Credit Limit: $5,000
Fees
Balance Transfer Fee: 1.00%
Cash Advance Fee: $2.50
Foreign Transaction Fee: 2.5%
Over Credit Limit Fee: $29