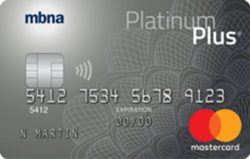 MBNA Platinum Plus® Mastercard® credit card
Secure application on the MBNA Canada website
Card Features
You could get a 0% promotional annual interest rate ("AIR")† for 12 months on balance transfers✪ [completed within 90 days of account opening], with a fee of 1% of the amount advanced (minimum fee of $7.50)
Access to 24/7 customer service
Around-the-clock-fraud protection
Immediate cash access at over 1 million ATMs worldwide
No annual fee
Interest Rates
APR: 19.99%
Balance Transfer APR: 21.99%
Cash Advance APR: 24.99%
Pros
Designed for balance transfers
Take up to 90 days after approval to make your balance transfer
Introductory Rates
0% on balance transfers for the first 12 months
Reward Earnings Rate
No rewards
Additional Details
Grace Period: 21 Days
Fees
Balance Transfer Fee: 1% of amount advanced (minimum fee $7.50)
Cash Advance Fee: 1% of amount advanced (minimum fee $7.50)
Foreign Transaction Fee: 2.5%
Over Credit Limit Fee: $25.00 per billing cycle
CreditCardsCanada.ca Review
This "no frills" credit card was designed for one thing – balance transfers. If you need to lower your interest payments and pay down your credit card debt, then a balance transfer is a great option.
Here's how a balance transfer works; By moving the outstanding balance on your existing credit card to a new credit card with a lower interest rate, you will save money on interest payments. The process is simple and is handled by the bank. You just need to provide some details about your account and the new credit card company takes care of the rest.
The MBNA Platinum Plus® MasterCard comes with an industry leading 0% promotional interest rate on balance transfers for the first 12 months. That means 100% of your monthly payments will go towards paying down your balance!
There is a 1% fee of the amount transferred, but that is competitive with other cards. There is no annual fee with the Platinum Plus card.
For people carrying monthly credit card debt a balance transfer is the answer to help reduce that debt. If this sounds like you, choose a card with a low promo rate like the MBNA Platinum Plus® MasterCard.
Read our full review of the MBNA Platinum Plus® MasterCard® credit card here.