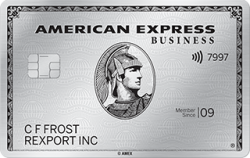 Business Platinum Card® from American Express
Secure application on the American Express website
Card Features
Earn a Welcome Bonus of 50,000 points when you charge $7,000 in purchases to your Card in your first three months of Cardmembership
You can maximize your cash flow with up to 55 interest free days. Use the Card throughout the month for all of your everyday business expenses, and earn reward points while you're at it
Earn 1.25 Membership Rewards points for virtually every $1 in purchases and get the most out of your business expenses
Take full advantage of the American Express Global Lounge Collection which unlocks access to over 1200 airport lounges worldwide. This includes The Centurion® Lounge network, Plaza Premium Lounges, and hundreds of other domestic and international lounges designed to enhance your travel experience
Enjoy financial flexibility with no pre-set spending limit on purchases. With this Card, your purchasing power adjusts dynamically with your Card usage, and can grow over time, as long as you make your payments on time and maintain a good credit history
Platinum Cardmembers can enjoy access to specialty services, preferential treatment and a dedicated Concierge team
As a Charge Card, the balance must always be paid in full each month. 30% annual interest rate applies to balances not paid in full. Payments must be received and processed by the date of the next monthly statement to avoid interest charges
American Express is not responsible for maintaining or monitoring the accuracy of information on this website. For full details and current product information click the Apply now link. Conditions apply.
Interest Rates
Purchase APR: N/A
Balance Transfer APR: N/A
Cash Advance APR: N/A
Annual Fee
$499
Additional Cardholders: Supplementary Card Fee: $199 annually for Business Platinum Cards®; $50 annually for Business Gold Cards®
Pros
Dedicated Concierge team for those on the go
Premier perks for the savvy busines spender
Bonus Offer
Earn a Welcome Bonus of 50,000 points when you charge $7,000 in purchases to your Card in your first three months of Cardmembership
Reward Earnings Rate
Earn 1.25 Membership Rewards points per $1 spent on eligible purchases
Additional Details
Grace Period: N/A
Fees
Foreign Transaction Fee: 2.5%
Late Fee: N/A
Over Credit Limit Fee: $29