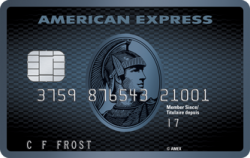 American Express CobaltTM Credit Card
Secure application on the American Express website
Card Features
In your first year as a new Cobalt Cardmember, you can earn 2,500 Membership Rewards® points for each monthly billing period in which you spend $500 in net purchases on your Card. This could add up to 30,000 points in a year
30,000 points is enough for: An eligible short-haul flight using the Fixed Points Travel Program, or $300 in statement credits redeemed towards travel purchases charged to your Card or $300 worth of tickets on Ticketmaster.ca
Earn 5x the points on eligible eats and drinks in Canada, including groceries and food delivery
Earn 2 points for every $1 spent on eligible transit & gas purchases in Canada and eligible travel purchases. That's 2X the points on purchases that get you from point A to B
Earn 1 point for every $1 in Card purchases everywhere else. We won't tell you where to spend, we'll just reward you on your Card purchases
Cobalt Cardmembers receive regular Perks such as bonus reward offers and access to great events
Get advance access to tickets to some of the hottest concerts, shows and events through Front Of The Line® by American Express Invites® and advance screenings to blockbuster movies
The preferred rate for purchases is 19.99% and funds advances is 22.99%. If you have Missed Payments, the applicable rates for your account will be 23.99% and/or 26.99%
Annual fee of $10 per month of Cardmembership ($120 annually), Supplementary Cards can be added at no additional cost.
American Express is not responsible for maintaining or monitoring the accuracy of information on this website. For full details, current product information and Terms and Conditions, click the Apply now link. Conditions Apply.
Interest Rates
Purchase APR: 19.99%
Balance Transfer APR: N/A
Cash Advance APR: 22.99%
Annual Fee
$10 per month of Cardmembership ($120 annually)
Additional Cardholders: Additional Cards can be added at no additional cost
Pros
Earn 5x points on eats and drinks, including groceries
Redeem points with the mobile app
Generous welcome bonus
Cons
The fee is a little steep, but isn't a deal breaker
Bonus Offer
Earn up to 30,000 bonus Membership Rewards® points in your first year.
Reward Earnings Rate
Up to 5%
Additional Details
Fees
Balance Transfer Fee: N/A
Foreign Transaction Fee: 2.5%
Late Fee: N/A
Over Credit Limit Fee: $29
CreditCardsCanada.ca Review
American Express Canada just crushed the competition in a major way. With the launch of the new Cobalt Credit Card, American Express is offering a market leading 5x points accelerator for eats and drinks, including groceries. Plus, a 2x points accelerator for travel that includes flights, accommodations, taxis, public transit and gas. 1x on everything else.
It's pretty clear who the target market for this card is – millennials. The on-the-go urban professional eats out, drinks out, and travels. The Colbalt card rewards them for the purchases they're already making. In a lot of ways it's a no-brainer.
The savvy spender can earn up to 30,000 bonus points in the first year of Cardmembership. (2,500 bonus points/month with $500 spend monthly.)
As we often say, a rewards card is only as good as the redemption options. American Express gets it right here too. When redeeming for travel, 1,000 points gets you $10 in travel rewards. For everything else, 1,000 points gets you $7 in rewards (like gift cards or merchandise.)
Points can be used to pay for virtually any purchase right on the mobile app, whether it's a trip, a monthly streaming subscription, or new outfit. Score!
The card comes with a $10/month fee, equating to a $120 annual fee. While this is on the higher end of annual fees, we think the rewards will outweigh the fee for most young professionals.