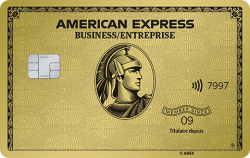 American Express® Business Gold Rewards Card
Secure application on the American Express website
Card Features
Earn up to 110,000 points: Earn a welcome bonus of 60,000 Membership Rewards® points after spending $5,000 in purchases within the first three months of Cardmembership. Earn an additional 10,000 Membership Rewards® points when you make a purchase after your 14-month Card anniversary date. Plus earn 10,000 bonus points when you charge $20,000 in net purchases to your Card account each calendar quarter. That's a total of up to 40,000 points every year. If redeemed for a statement credit, this is $1,100 that you can reinvest in your business.
The Membership Rewards program boasts an exceptional line-up of rewards redemption options for you and your business, including travel, dining, entertainment, gift cards, merchadise, and more
You can maximize your cash flow with up to 55 interest free days. Use the Card throughout the month for all of your everyday business expenses, and earn reward points while you're at it.
Earn 1 Membership Rewards point for every dollar in purchases charged to the Card. Track Your Progress by logging into your American Express® App to see how your quarterly purchases are stacking up. Download the Amex App for your phone or use http://amex.ca/Mobile to view more information. Available on iOS and Android only.
Take advantage of purchasing power that grows with your business. With this Card, your purchasing power adjusts dynamically with your Card usage, and can grow over time, as long as you make your payments on time and maintain a good credit history
Make the most of a suite of business management tools that give you more control over your business - anytime and anywhere
99% Recycled Plastic: You will receive your new Business Gold Rewards Card once your current Card expires. You can continue to use your current Card until you receive a new one. As part of our commitment to sustainability, your Card has been created using 99% recycled plastic
Special Business Offers with American Express. Explore offers for dining, travel, business supplies and services, and more – from brands you love
Enjoy added confidence with Mobile Device Insurance. You can be protected with our Mobile Device Insurance. Enjoy your new mobile device with more confidence
As a Charge Card, the balance must always be paid in full each month. 30% annual interest rate applies to balances not paid in full. Payments must be received and processed by the date of the next monthly statement to avoid interest charges
American Express is not responsible for maintaining or monitoring the accuracy of information on this website. For full details and current product information click the Apply now link. Conditions apply.
Interest Rates
Purchase APR: N/A
Balance Transfer APR: N/A
Cash Advance APR: N/A
Annual Fee
$199
Additional Cardholders: Supplementary Card fee $50*
Pros
Generous welcome bonus value compared to the annual fee
Great insurance coverange and additional benefits only from American Express
Bonus Offer
Reward Earnings Rate
1 point for every dollar in purchases charged to the Card
Additional Details
Grace Period: N/A
Fees
Foreign Transaction Fee: 2.5%
Late Fee: N/A
Over Credit Limit Fee: $29