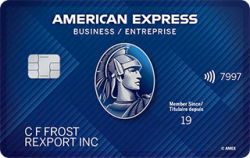 American Express Business Edge™ Card
Secure application on the American Express website
Card Features
Earn up to 67,000 welcome bonus Membership Rewards® points
Earn 45,000 Welcome Bonus points when you charge $5,000 in purchases to your Card in your first three months of Cardmembership
Plus, earn 10x the points for every $1 spent on eligible business essentials including office supplies & electronics, rides & gas, eats & drinks within 6 months of Cardmembership, up to a maximum of 10,000 points.
You can earn an extra 1,000 Membership Rewards points for each monthly billing period in which you spend $3,000 in purchases on your Card. This could add up to 12,000 extra points in a year.
That's $670 in statement credits that can be reinvested in your business.
Earn points that you can redeem in a variety of ways.
Earn 3x the points for Card purchases on eligible business essentials including office supplies & electronics, rides & gas, eats & drinks when your Welcome Offer ends. Caps and other conditions may apply.
Earn 1x the points on all other purchases charged to the Card
Use points to offset business expenses. Membership Rewards® allows you to offset business expenses by covering the cost of purchases made on your Card, in full or in part. Redeem points for statement credits and to book flights, hotels, and car rentals.
Transfer points to frequent flyer and hotel programs, including one-to-one to Aeroplan®* and Avios.
Make the most out of a full suite of business management tools that give you more control over your business - anytime and anywhere.
Leverage your cash flow with the option of carrying a balance or paying in full each month.
Employee Card Misuse Protection is a benefit created specifically for business owners and it provides coverage of up to $100,000 per Basic Cardmember in the event an employee misuses their Supplementary Card for unauthorized charges.
Access coverage that can protect your business purchases when you charge the full price of eligible items to your American Express Business EdgeTM Card.
Protect your eligible purchases against accidental physical damage and theft for up to 90 days with Purchase Protection® Plan
Double the manufacturer's original warranty up to one additional year with Buyer's Assurance® Protection Plan
American Express is not responsible for maintaining or monitoring the accuracy of information on this website. For full details and current product information click the Apply now link. Conditions apply
Interest Rates
Purchase APR: 20.99%
Balance Transfer APR: N/A
Cash Advance APR: 21.99%
Pros
Monthly opportunity to earn bonus points with $3,000 spend.
Wide range of point redemption options.
Cons
Not a low rate credit card.
Bonus Offer
Earn up to 67,000 welcome bonus Membership Rewards® points
Reward Earnings Rate
3x the points for Card purchases on eligible business essentials including office supplies & electronics, rides & gas, eats & drinks. 1x the points on all other purchases charged to the Card.
Additional Details
Fees
Foreign Transaction Fee: 2.50%
Late Fee: N/A