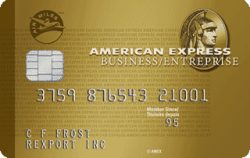 American Express® AIR MILES®* Gold Business Card
Secure application on the American Express website
Card Features
Get 150 Bonus AIR MILES®* Reward Miles when you spend $1,000 within the first three months of Cardmembership
Earn 1 Mile for every $15 in Card purchases at AIR MILES®* Sponsors and 1 for every $20 in Card purchases everywhere else
Show your Collector Card and use your AIR MILES®* Gold Business Card at Sponsor locations to earn miles twice
Pay no annual fee. Plus, enjoy the flexibility to pay balances in full or over time
American Express is not responsible for maintaining or monitoring the accuracy of information on this website. For full details and current product information click the Apply now link. Conditions apply.
Interest Rates
Purchase APR: 19.99%
Balance Transfer APR: N/A
Cash Advance APR: 21.99%
Annual Fee
$0
Additional Cardholders: $0
Pros
AIR MILES®* business rewards credit card with no annual fee
Flexibility to pay over time
Cons
Not a low interest rate card
Bonus Offer
Get 150 Bonus AIR MILES®* Reward Miles when you spend $1,000 within the first three months of Cardmembership
Introductory Rates
Reward Earnings Rate
1 mile for every $15 in Card purchases at eligible AIR MILES®* Sponsors
Additional Details
Grace Period: N/A
Fees
Foreign Transaction Fee: 2.5%
Late Fee: N/A
Over Credit Limit Fee: $29