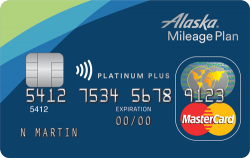 Alaska Airlines World Elite® MasterCard® credit card
Secure application on the MBNA Canada website
Card Features
Receive 25,000 Bonus Miles†† after your first eligible purchase
Earn 1 Bonus Mile per $1 spent on every eligible purchase‡
Earn 3 Bonus Miles per $1 spent on Alaska Airlines tickets, cargo purchases, in-flight purchases and vacation packages‡
Receive an annual Companion Fare from $121 (USD) ($99 base fare, plus taxes and fees from $22)◊◊
Redeem Miles for flights to over 700 destinations worldwide‡
$75 annual fee
Interest Rates
APR: 18.99%
Balance Transfer APR: 19.99%
Cash Advance APR: 19.99%
Pros
Excellent sign-up bonus
Discounted annual companion fare
Flexible redemption options for travel
Bonus Offer
25,000 bonus miles after your first purchase
Reward Earnings Rate
1 mile per $1 spent
Additional Details
Grace Period: 21 Days
Fees
Balance Transfer Fee: 1% of amount advanced (minimum fee $7.50)
Cash Advance Fee: 1% of amount advanced (minimum fee $7.50)
Foreign Transaction Fee: 2.5%
Over Credit Limit Fee: $25.00 per billing cycle
CreditCardsCanada.ca Review
The Wall Street Journal ranked Alaska Airlines the #1 overall US carrier in its 2016 ranking of the nine biggest U.S. airline carriers. That award highlights Alaska Airlines outstanding customer service, on-time performance, and customer satisfaction with their loyalty rewards program.
As with any travel rewards credit card, it's all about the loyalty program. Members can earn and redeem miles with Alaska Airlines and 15 other global airline partners. The combined reach is access to 800 destinations around the globe. So even though Alaska Airlines primarily serves the west coast, the card can work for jet-setters across Canada.
To kick-start your rewards, the Alaska Airlines World Elite® MasterCard® credit card comes with 25,000 bonus miles. That's enough miles for a round-trip short haul flight! Another popular benefit is the annual discounted companion fare. Simply book an Alaska Air flight and your companion can fly for $121 USD.
You'll earn miles with every purchase on the card and triple miles on Alaska Airlines tickets, cargo purchases, in-flight purchases and vacation packages.
There are two versions of the card – the World Elite version and Platinum Plus version. The both have the same $75 annual fee, same benefits, same fees. The only difference is that the World Elite version is part of MasterCard's "premium" line of cards and comes with a few additional benefits like price protection and concierge. To be eligible for the World Elite, you'll need an annual income of $70,000 (or $120,000 household). If you don't qualify for the World Elite, you will automatically be considered for the Platinum Plus version.
Overall we think this is an excellent card. While it's generally good for people who travel frequently on Alaska Airlines, we still think savvy consumers could use earned rewards on the partner network for international travel. As with most travel rewards card, the interest rate is not low, so it's best not to carry a monthly balance on this card.
Click here for the full Alaska Airlines MasterCard Review.