Harley-Davidson® MasterCard Review
Posted January 20, 2017
- updated February 8, 2018
in Reviews

Special interest credit cards can offer unique benefits not available with any other card. While these types of cards cater to a niche market, it can pay to take a look at all they have to offer. Whether you're a sports fan or you enjoy riding a motorcycle on the weekend, there's a credit card for just about everyone.
The only card where you can win!
The Harley-Davidson MasterCard is a motorcyclist's dream card. How would you like to win a brand-new motorcycle just by swiping your credit card? The HD Mastercard is the only card where you could win a brand new top-of-the-line Harley-Davidson motorcycle by simply using your card. Every time you make an eligible purchase you'll be entered in a quarterly Harley-Davidson motorcycle draw.
For example, the prize for the 1st quarter of 2017 is a 2017 Softail Slim FLS, with the drawing taking place on April 28, 2017. The prize changes every quarter according to the schedule here:
| Period | Prize | Promotional Period | Draw Date |
| --- | --- | --- | --- |
| Q1 | 2017 Softail Slim® FLS (ARV= $18,199) | January 1 to March 31, 2017, 11:59 PM ET | April 28, 2017 |
| Q2 | 2017 1200 Roadster XL1200CX (ARV= $12,999) | April 1 to June 30, 2017, 11:59 PM ET | July 28, 2017 |
| Q3 | 2018 883™ Super Low® XL883L (ARV= $10,399) | July 1 to September 30, 2017, 11:59 PM ET | October 27, 2017 |
| Q4 | 2018 Iron 883™ XL883N (ARV= $10,799) | October 1 to December 31, 2017, 11:59 PM ET | January 26, 2018 |
Great contest, lackluster rewards
Each time you use your credit card you'll earn reward points that convert to Chrome Cash (think of it as the equivalent of a store credit). You will earn 1 point for every $2 spent. For every 1,000 points redeemed, you can spend $10 in "Chrome Cash" toward your favourite Harley-Davidson products.
If the rewards sound a little on the low side, you're correct. When we crunch the numbers, cardholders are only getting a rewards rate of 0.5 percent (compared to 1 percent on most cards) towards rewards that can be used for Harley-Davidson purchases.
The reason the rewards rate is lackluster is because Harley-Davidson and MBNA need to fund the contest. Basically, all Harley-Davidson cardholders are subsidizing the contest by getting a below market rewards rate. The card is great if you win the motorcycle, but maybe not so great if you don't.
Harley-Davidson® Mastercard® credit card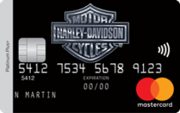 You could get a 1.99% promotional annual interest rate ("AIR")† for 10 months on balance transfers✪ [completed within 90 days of account opening], with a fee of 1% of the amount advanced (minimum fee of $7.50)

Earn 1 Genuine Rewards Point or every $2 in eligible purchases‡

Redeem your points for Harley Chrome® Cash‡ to be used at participating Harley-Davidson Canadian retailers
Balance Transfer:
1.99% on balance transfers for the first 10 months
Other Benefits
While the rewards may not be the greatest, the card does offer other benefits:
Balance Transfer: Carrying a balance on your credit card? Receive a low introductory rate of only 1.99 percent on any balance transfer for the first 10 months.
Travel Protection: Are you a frequent flyer? Whether you like to travel for business or pleasure, enjoy basic travel protection, including unexpected returns home.
Extended Warranty Benefits: If you buy something pricey with your credit card, such as a TV set, that comes with an extended warranty, it's doubled for up to an extra year.
Purchase Assurance: You're protected for 90 days on most purchases you make with your credit card.
Cool factor: Simply put, Harley-Davidson's are awesome and this is the card to match your chrome!
The Bottom Line
We love earning and redeeming credit card rewards. We also love a good contest. While we would not recommend using the Harley-Davidson card as your "everyday" card, we do think it's a cool way to try to win a bike. If you want to take a stab at winning a motorcycle, use the card a few times a month for small purchases to get entered into the contest. However, use a higher earning rewards card for the majority of your purchases, such as groceries, gas and recurring bills. We might suggest the Tangerine Money-Back Credit Card as an excellent choice to complement this card.
---
ADVERTISING DISCLOSURE: CreditCardsCanada.ca has business relationships with some credit card issuers featured on this site. We may receive compensation from these issuers when consumers apply for and/or are approved for a credit card through links on this website. For example, when a visitor clicks on an "Apply Now" button, we may be compensated if that visitor is approved for a card. Read More