American Express® Gold Rewards Card Review
Posted October 24, 2016
- updated April 1, 2019
in Reviews

The Gold Rewards Card is one of American Express' oldest cards and remains the company's flagship card offering. With premium features, benefits and perks it's to see why more people are joining the American Express family.
New card members can take advantage of an excellent sign-up bonus. You'll earn 25,000 Membership Rewards points when you charge $1,500 in purchases in your first 3 months.
American Express cards may be designed for a higher end market, but even an "average Joe" can take advantage of everything offered by American Express.
American Express® Gold Rewards Card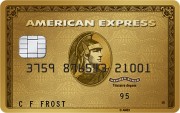 Apply Now
Secure application on the American Express website
New American Express® Gold Rewards Cardmembers can earn a Welcome Bonus of 25,000 Membership Rewards® points just by making $1,500 in purchases in the first three months of Cardmembership

That's enough to redeem for a round-trip Fixed Mileage Flight RewardTM to almost anywhere in North America

Earn 2 points for every $1 on eligible travel and  everyday purchases. Earn one point for every $1 in Card purchases everywhere else 
Not to split hairs, but one thing to note about the Gold Rewards Card (GRC) is that it isn't technically a "credit card". It's a "charge card". The main difference between the two is this; unlike a credit card where you can carry a balance, any purchases made on a charge card needs to be fully paid back by the due date. By failing to do that, a whopping 30% annual interest rate applies to balances not paid in full. Thankfully, for users of high-end cards like the GRC, this generally isn't an issue.
About American Express
It's easy to outright dismiss American Express as just another US company trying to get a piece of the lucrative credit card pie in Canada. But the fact is, American Express has been doing business in Canada since 1853. Headquartered in Markham, Ontario, Amex Canada employs some 3,000 Canadians coast-to-coast.
Another common misconception is that American Express just isn't accepted at enough retailers to justify paying an annual fee. The truth is, American Express is widely accepted at retailers across Canada and worldwide. While smaller "mom and pop" retailers and restaurants might not accept the card, American Express continues to make efforts to bring more merchants online.
Some merchants don't accept the cards because of slightly higher interchange fees for each swipe. The fees are higher because American Express runs a so-called "closed loop" network. This means they wear all the hats in credit card transactions: card issuer, network, processor and Merchant acquirer. While merchants might pay slightly higher fees, operating their own network means American Express can offer its card customers better overall service and perks.
About Membership Rewards
When shopping with the Gold Rewards Card, you'll earn Membership Rewards points. As with any rewards card, the points you earn are only as good as the redemption options available to you. Membership Rewards redemption options do not disappoint. There are several ways to redeem your hard earned points from the http://catalogue.membershiprewards.ca website.
Merchandise
You can use your Membership Rewards points to shop for merchandise from the catalogue. The selection of products available is downright impressive. The store boasts the most options we've seen from any points based card. The website itself is well designed and easy to navigate.
Travel
For those with the travel bug, you can redeem Membership Rewards points for a variety of travel options.
Use Points for Purchases – To take advantage, simply charge any eligible purchase to your card. Then log in to redeem your points for a statement credit. The minimum redemption requirement is 1,000 points.
Travel Gift Cards – Redeem points for a variety of car rental, hotel, and airport lounge gift cards.
American Express Travel Services. Get expert service and support when you book travel with American Express Travel Services. You'll receive $10 in travel credit for every 1,000 Membership Rewards points redeemed.
Travel Merchandise – Choose from a selection of travel accessories like luggage and travel cases.
Transfer Points – One of the best travel options available with the Gold Rewards Card is the ability to transfer your Membership Rewards points to other loyalty programs. For example, here are a few of the most popular transfer partners:
Aeroplan – 1000 Membership Rewards points = 1000 Aeroplan® miles
Delta SkyMiles – 1000 Membership Rewards points = 750 SkyMiles®
Hilton HHonors – 1000 Membership Rewards points = 1000 HHonors points
Starwood Preferred Guest – 1000 Membership Rewards points = 500 Starpoints
Gift Cards
If there wasn't already enough choices, American Express offers more. Redeem points for gift cards from an impressive list of popular brands. Whether you're into dining, entertainment, retail, sports, or everyday shopping there's something for everyone. American Express gift cards are also available if you can't find exactly what you're looking for, although you'll get more bang for your points by choosing a branded gift card.
Cardholder benefits
American Express is a premium brand, and cater to their loyal cardholders by offering premium services. Here are some standouts every cardholder can expect.
Insurance Coverage – American Express offers insurance for all difference occasions, so you can relax and enjoy your time off. Insurance coverage offered includes the following:
Emergency Medical Insurance (Out of province/country)
Trip Interruption Insurance
Car Rental Theft and Damage Insurance
Lost or Stolen Baggage Insurance
Other complimentary travel insurance benefits
Entertainment Access – Get the VIP treatment without being a celebrity. Enjoy memorable experiences with American Express Invites. Get moved to the front of the line for in demand concerts and sporting events.
Shopping Coverage – With Amex you can shop 'til you drop with these three options.
No Pre-Set Spending Limit on Purchases – Spend to your heart's content (responsibly, of course).
Buyer's Assurance® Protection Plan – Double the manufacturer's warrantee to up to a year.
Purchase Protection® Plan – Covers you in case of accidental damage and theft.
The Bottom Line
If you're looking for a credit card with brand loyalty and exceptional perks, look no further than American Express. The customer service is top-notch and consistently the best in the industry. The sign-up bonus is hard to beat and the Gold Rewards Card offers long term value even after the first year (when the annual fee kicks in). If you're a frequent flyer who is a member of several airline loyalty programs, you'll get the most out of this card due to the ability to transfer your points to Aeroplan, Delta, SPG, etc. Did we mention there are plenty of rewards to choose from?
While you may be interested in the prestige of being an American Express cardholder, the Gold Rewards Card is without a doubt a solid performer and beats out most rewards cards on the market today.
Ready to join the American Express family? Apply for the Gold Rewards Card today.
This post was not sponsored. The views and opinions expressed in this review are purely the staff of CreditCardsCanada.ca.