American Express Air Miles Platinum Credit Card Review
Posted April 10, 2017
- updated March 24, 2020
in Reviews

Looking to go on your dream vacation sooner? For AIR MILES collectors, getting an accompanying credit card is the perfect way to grow your AIR MILES balance. If you're accustomed to using a debit card for your daily purchases, you're missing out on rewards, big time! By simply changing your payment method (and sticking to your budget), using a credit card for daily purchases can add to your bottom line.
The AIR MILES program is wildly popular in Canada. However, the parent company Loyalty One has made some missteps in the past year or so, angering customers with policy changes, such as attempting to introduce an expiry policy and devaluing points. Even so, the program offers consumers many benefits and redemption options.
You'll get an excellent bang for your reward point buck with the Amex AIR MILES Platinum card, if you're a medium to high spender. To jumpstart your account balance, as a new cardholder, you can earn 2,000 AIR MILES.
Hitting the spending goal is more than enough miles for a free select flight. You'll continue to earn rewards on all your purchases, whether they're made at AIR MILES Sponsors or any other retailer. It's a win-win situation for cardholders.
American Express® AIR MILES®* Platinum Credit Card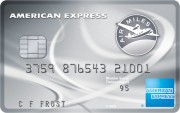 Apply Now
Secure application on the American Express website
New American Express® AIR MILES®* Platinum Credit Card Cardmembers, earn a Welcome Bonus of 2,000 AIR MILES®* Bonus Miles when you charge a total of $1,500 in purchases to your Card within your first three months of Cardmembership. That's enough for a select flight

Earn 1 Mile for every $5 in Card purchases, up to $30,000 annually, on eligible food & drinks, (such as eligible restaurants, coffee shops and stand-alone grocery stores), and eligible gas & transit (such as local commuter transportation including ridesharing services and taxi) in Canada.

Earn 1 Mile for every $10 in Card purchases everywhere else.
Earning AIR MILES
As mentioned, it's easy to earn AIR MILES on all your credit card purchases. While the standard earn rate is 1 AIR MILE for every $10 spent, you'll earn AIR MILES at a 1/$5 ratio at gas stations, commuter transportation, and eligible food and drinks, such as restaurants and grocery stores. This accelerated earnings is capped at $30,000 in yearly spend.
Many of Canada's top retailers participate in the popular AIR MILES program. You can find the list of sponsors here.
AIR MILES Shops
Many credit card reward programs offer online shopping portals to earn additional rewards for online purchases – AIR MILES included! It's easy to do. Simply login to the shopping portal and click on your retailer of choice. Complete your purchases as normal and voila! You'll be credited with additional miles.
Redeeming AIR MILES
AIR MILES isn't your run-of-the-mill rewards program. One notable difference between AIR MILES and other reward programs is how the miles are entered into your miles balance. You have two options:
1. Cash Rewards – Similar to a cash-back credit card, redeem your miles towards everyday shopping – like gas and groceries – by choosing to have your earned miles go into your Cash Rewards balance. This is good for in-store purchases at participating Reward Partner locations or online cash rewards for things like movie tickets, pizza, coffee and more with participating online Reward Partners.
2. Dream Rewards – What would an AIR MILES card be without travel? If you're saving AIR MILES for travel, this is the category for you. Book flights, hotels, car rentals, cruises, vacation packages and more. You can also choose to redeem for merchandise, events, or even use miles for sweepstakes entries.
It's important to understand that your miles cannot be transferred between Cash Rewards and Dream Rewards accounts (AIR MILES has recently made a bunch of changes to its program to attempt to win back disgruntled cardholders – this isn't one of them). While that seems a little odd, a saving grace is that you do have the ability to control how much of your miles go into each account. You can change it anytime, which is definitely convenient.
Additional Benefits
A major reason to use credit cards over other forms of payment is the additional perks of card membership.
Travel
Complimentary Car Rental Theft and Damage Insurance – Keep more of your hard-earned money in your pockets when travelling. Save by declining the Loss Damage Waiver and charging your vehicle rental on your card and receive additional coverage at no extra charge.
$100,000 Travel Accident Insurance – Travel with the peace of mind knowing you're protected. Receive up to $100,000 of Accidental Death and Dismemberment Insurance, protecting loved ones and you.
American Express® Assured Reservations – Flight delayed? No problem. Your room will be waiting for you no matter how late you arrive.
Shopping Coverage
Buyer's Assurance® Protection Plan – Double the manufacturer's warranty up to a full extra year when you charge the full purchase price on your card.
Purchase Protection® Plan – Eligible purchases made on the card are automatically insured against accidental physical damage and theft. Best of all, no registration is required!
Entertainment Access
Front Of The Line – Get the VIP treatment. Buy tickets to the hottest events before they go on sale to the general public.
Reserved Ticket Access – Buy tickets from a block of stellar seats reserved exclusively for American Express cardholders.
Bottom Line
Despite the negative press for AIR MILES in the media as of late, with a nice sign-up bonus and flexible reward program, you'll be hard-pressed to find a better travel rewards credit card. If you're a regular shopper at AIR MILES participating stores, run, don't walk, to sign up for the American Express Air Miles Platinum credit card!
---
This post was not sponsored. The views and opinions expressed in this review are purely the staff of CreditCardsCanada.ca.
ADVERTISING DISCLOSURE: CreditCardsCanada.ca has business relationships with some credit card issuers featured on this site. We may receive compensation from these issuers when consumers apply for and/or are approved for a credit card through links on this website. For example, when a visitor clicks on an "Apply Now" button, we may be compensated if that visitor is approved for a card. Read More