Alaska Airlines Platinum Plus® Mastercard® Review
Posted September 29, 2016
- updated May 21, 2019
in Reviews

Alaska Airlines is a well-known and respected airline out west. In an industry known for cost cutting, it has the highest customer satisfaction of traditional airlines. Don't let its name fool you. Alaska Airlines flies to more than one hundred destinations in North America besides Alaska.
This isn't your run-of-the-mill travel rewards credit card. There's more to the Alaska Airlines Platinum Plus® Mastercard® card than you might expect. Even if you've never flown Alaska, you can still take advantage of this card. 
Simply put, the sign-up bonus is unmatched. You'll earn 20,000 bonus miles after you spend $1,000 on the card within 90 days, which is enough points for a round trip flight within the continental U.S. and Canada. That's not all – you'll get a discounted annual companion fare starting at $121 USD when flying on Alaska flights. With a juicy sign-up bonus and discounted annual companion fare, the Alaska Airlines MasterCard is a top pick in the travel category. 
Travel reward credit cards often come with hefty annual fees. Not this one. At $75, the annual fee is relatively low compare to other high-end travel rewards cards. Plus the sign-up bonus far outweighs the annual fee.
Alaska Airlines Platinum Plus® Mastercard® credit card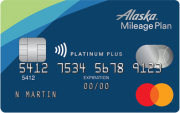 Apply Now
This offer is not available for residents of Quebec.
A new Alaska Airlines Platinum Plus® Mastercard® credit card could take you places. If approved, you could receive new benefits and start earning more Mileage Plan™ miles.

20,000 bonus miles†† and Alaska's Famous Companion Fare™ from $121 (USD) ($99 plus taxes and fees from $22)◊◊ after you make $1,000 or more in eligible purchases within the first 90 days of your account opening.

Every year on your account anniversary buy one round trip and get Alaska's Famous Companion Fare™ from $121 (USD) ($99 plus taxes and fees from $22)◊◊ on Alaska Airlines. There are no blackout dates.
MileagePlan Details
To take full advantage of the perks, you'll want to join the Mileage Plan. It's free to sign up, making the Alaska Airlines MasterCard the perfect companion to the rewards program.
Members can earn and redeem miles with Alaska Airlines and any of their 19 global airline partners to over 900 destinations around the globe. Airline partners include – AeroMexico, AirFrance, AmericanAirlines, British Airways, Cathay Pacific, Emirates Airlines, FIJI Airways, Hainan Airlines, Japan Airlines, IcelandAir, KLM Royal Dutch Airlines, Korean Air, LAN, PenAir, Quantas, Ravn Alaska, and now, Virgin America.
With the MileagePlan, you'll earn miles for every leg of your journey (not just your flight). This includes your car rentals, hotel stays, and even everyday purchases, helping you rack up a lot of points.
Flying on Alaska Airlines
It's easy to complain about any airline. After all, flying is just generally an unpleasant experience – delays, lost bags, bad food, etc. But Alaska Air is one airline people generally like. It's a relatively small airline with reasonable prices, good customer service, a great rewards program, and the flights are usually on-time.
Alaska Air is set to acquire Virgin America in the coming months. Virgin is another well loved airline known for outstanding customer service and low fares. The combination will expand routes east which should make the card more enticing for people on the east coast.
Although cardholders in the west will benefit most from this card, if you're in the east and have family and friends out west, you can still benefit if you're planning to fly Alaska Airlines.
For those not familiar with Alaska Airlines, here are some quick facts.
Destinations
Operates out of several Canadian locations in BC and Alberta. (Calgary/Banff, Edmonton, Kelowna, Vancouver, Victoria, Whistler)
Flights to airports throughout the US, Mexico, and Costa Rico
First Class
Offers additional space, premium food and beverage (including a monthly rotation of fine wines), dedicated first class flight attendant
Alaska Airlines offers multiple options for upgrading into the First Class cabin. Use your MileagePlan™ Miles to upgrade in advance, request a Paid Upgrade during check-in or at the departure gate, and if you're an Elite Level Mileage Plan™ member, you can upgrade for free.
One way first class upgrade using Mileage Plan is 15,000 miles
Service
The Wall Street Journal ranked Alaska Airlines the #1 overall US carrier in its 2016 ranking of the nine biggest U.S. airline carriers.
J.D. Power ranked Alaska Airlines "Highest in Customer Satisfaction with Airline Loyalty Rewards Programs"
World Elite vs. Platinum Plus
There are two versions of the card – the World Elite version and Platinum Plus version. The World Elite version is part of Mastercard's "premium" line of cards and comes with a few additional benefits like price protection and concierge. To be eligible for the World Elite, you'll need an annual income of $70,000 (or $120,000 household).
Other benefits and features
The alaskaair.com website: In order to use your miles and get more information about your account and available services you'll generally use the alaskaair.com website. It's easy to overlook, but the website is extremely well done. Information is easy to find, booking is a breeze, and managing your travel is a delight.
Elite Mileage Plan status: There are 3 tiers of elite status memberships available (MVP, MVP Gold, and MVP Gold 75K). The tiers are based on a yearly cumulative amount of miles earned, and MVP status starts at 20,000 miles. Elite benefits include complimentary upgrades, priority check-in and boarding, and waived ticket change fees. For frequent flyers, members who fly 1,000,000 miles on Alaska are granted MVP Gold status for life.
The Bottom Line
For those who travel on Alaska Airlines, this MasterCard is a no-brainer. For everyone else, especially those in the west, it's strongly worth consideration. You won't have to wait for eons to enjoy a free flight – the sign up bonus alone is enough to take your first vacation. With countless ways to earn reward points, for those with the travel bug or those who frequently travel out west on business, this is a credit card to consider adding to your wallet.
---
ADVERTISING DISCLOSURE: CreditCardsCanada.ca has business relationships with some credit card issuers featured on this site. We may receive compensation from these issuers when consumers apply for and/or are approved for a credit card through links on this website. For example, when a visitor clicks on an "Apply Now" button, we may be compensated if that visitor is approved for a card. Read More
This review is the view of CreditCardsCanada.ca. Views expressed do not represent the views of any member of the TD Bank Group.